Various hues of Lok Sabha elections 2009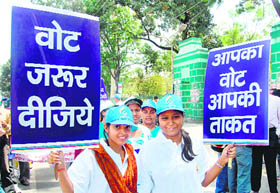 With Lok Sabha elections for the five seats of Uttarakhand scheduled to be held on May 13, the capital city of Dehradun remained the nerve centre of various poll-related activities in the run-up to the elections. The parties deployed every means to attract and influence voters — from wearing fancy dresses and staging street plays. There were some public-spirited people who held their own rallies to spread awareness on the importance of voting. With curtains down on electioneering on Monday, polling parties accompanied by security personnel have started to leave the capital for the remotest part of the hill state. The Tribune photographers in Dehradun Vinod Pundir and Anil.P. Rawat captured various facets of elections 2009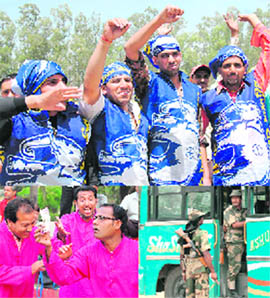 Different Strokes: (Clockwise) Girls participate in a rally to motivate voters to cast their vote; BSP workers show support for the party candidates; BSF jawans board buses to ensure peaceful elections in farflung hilly areas of the state; a street play held by the Congress at Gandhi Park.
We spent 120-cr on development: CM
Dehradun May 10
Chief Minister BC Khanduri has rejected the charges levelled by Congress President Sonia Gandhi against the state BJP for failing to utilise the aid given by the Central government as baseless.
Mystery illness strikes Gaurikund mules
Dehradun, May 10
After the death of 13 mules and horses in Gaurikund en route the Kedarnath shrine in Uttarakhand, a team of veterinarians have diagnosed virus-like symptoms and sent serum samples of the livestock for further investigation.
Mulayam sure of pocketing 2 seats
Roorkee, May 10
Addressing a gathering of over 5,000 people at the Letho Press Ground here today, Samajwadi Party (SP) supremo, Mulayam Singh Yadav said he was hopeful of winning at least 60 seats in these elections.
Poll officials for distant places depart
Dehradun, May 10
Officials on election duty for as many as 40 distant polling stations in the Chakrata assembly segment, falling in Tehri constituency, left for their respective destinations from the Parade Ground, here today.
Parties to take up domicile issue: Convenor
Dehradun, May 10
Former Union Home Minister for State and convenor Janmanch, Swami Chinmayanand, today said almost all political parties in the state have in principle accepted that domicile certificate issues need to be re-addressed at the earliest, particularly in the district of Haridwar.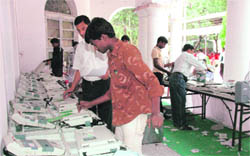 FINAL LOOK: Electronic voting machines being checked for the final time before being desptached from Dehradun on Sunday. A Tribune photograph
Litmus test of Khanduri's popularity
Dehradun, May 10
The personal reputation of Chief Minister BC Khanduri as a star campaigner for the ruling Bharatiya Janata Party (BJP) is at stake in all the five Lok Sabha seats of the state.
Mother's Day celebrated at old-age home
Dehradun, May 10
Uttaranchal Mahila Association (UMA) celebrated Mothers Day with senior citizens at Prem Dham, old aged home, here today. The programme began with the lighting of the lamp by chief guest Raj Rawat, president state women commission and sister Anjali from Prem Dham.
Showers come to foresters' rescue
Dehradun, May 10
Light rains in parts of Uttarakhand have come as a relief for foresters and forest officials who are fighting hard in controlling raging forest fires in the state.
Dehradun teams clinch u-18 b'ball title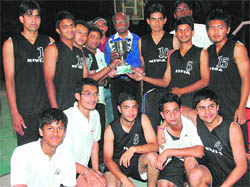 Dehradun, May 10
Dehradun clinched the 9th Aspen Crew Uttarakhand State Junior (u-18) Basketball Championship title in both the boys and girls category, here today. Finals proved to be the one sided affair for both the teams. In the boys' Dehradun team defeated Haridwar district team by 67-28 and in girls' Dehradun outclassed Tehri team by 55-14.


Dehradun team with their trophies in Dehradun on Sunday. Tribune photographs
C'ship for Deaf & Dumb
State team all set for national tourney
Dehradun, May 10
Uttarakhand cricket team of deaf members will soon be leaving to participate in the 5th National Championship for Deaf and Dumb to be held in Delhi from may 19 to 27. As many as 17 teams will be participating in the tournament.
Uttarakhand bags first position in karate champoinship
Dehradun, May 10
Uttarakhand occupied the first position the All-India Karate-Do Championship that concluded at Doon Sports Academy, here today. Assam Rifle was placed at second placed whereas Jummu bagged third position.
Sachin emerges victorious in junior tennis
Dehradun, May 10
Sachin emerged winner of Chaudhari Rohtash Singh Memorial Junior Tennis Tournament in 18-years category, here today.