Rawat gives Gehlot's rally a miss
Roorkee, May 7
The Congress Party faced an embarrassing situation today as the rally of Rajasthan Chief Minister Ashok Gehlot, at a local school compound, witnessed thin attendance. Much to the frustration of the organisers, only 300 persons were present at the function, which started at around 3.30 pm.
Sikh faction to support BJP
Dehradun, May 7
Albeit a major section of Sikhs, patronised by Delhi Sikh Gurdwara Prabandhak Committee chief Parmajit Singh Sarna, had earlier extended support to Congress candidates, the Sikh Forum today announced support to the BJP.
Poll Games
Parties banking on bigwigs to win over communities
Dehradun, May 7
With the final phase of electioneering in full swing, major political parties, apart from bringing in their star campaigners, are also working hard at the micro-level by influencing major castes and communities in their respective constituencies.
"Greater NDA" on way: Anant
Dehradun, May 7
The Bharatiya Janata Party has said the formation of "Greater NDA" is on the cards. Making an announcement in this regard here today, party national general secretary Anant Kumar said once the election results are declared, several more parties will join the NDA.
Modi visits Badrinath shrine
Dehradun, May 7
Gujarat Chief Minister and star campaigner of the BJP Narendra Modi today went to the Hindu religious shrine of Badrinath in Chamoli district. After paying obeisance at the revered shrine, Modi, who was in the state to campaign for his party, expressed satisfaction on the performance of the party.
Don't abuse regionalism, say luminaries
Dehradun, May 7
Law College Dehradun today organised a conclave on regionalism entitled "India?? shall be Union of States." Justice MM Ghildiyal Lokayukta in his presidential address said the preamble of the Constitution and the principles enshrined in it upheld the federal principles of the Indian union.
Eight months on, BEd students await counselling
Dehradun, May 7
Uncertainty still prevails on the counselling session of self-financed BEd colleges that has already been delayed by eight months. The self-financed colleges seems to be in a confused state, not knowing what is to be done in the matter.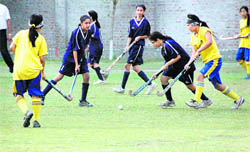 Welham's A enter final
Dehradun, May 7
Welham's Girls School's-A team cruised into the finals of the DDCSA Senior Girls Hockey Tournament underway at Welham Girls School, Dehradun, here today.



A match in progress at Welham's Girls school in Dehradun on Thursday. A Tribune photograph
Basketball: Mussoorie, Doon triumph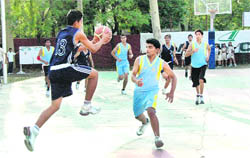 Dehradun, May 7
Teams from Mussoorie and Dehradun won their matches in the boys and girls category, respectively, at the ongoing 9th Aspen Crew Uttarakhand State Junior (u-18) Basketball Championship at Welham's Boys School, Dehradun, here today.


A match being played at the state-level junior basketball tournament in Dehradun on Thursday. Tribune photo: Vinod Pundir
Doon lift cricket title
Dehradun, May 7
Doon Public School lifted the title of the 14th Gardner Inter-School Indoor Cricket Tournament in the boys category, whereas in girls St Thomas College was the winner.