Calcutta too bats for him
Amritsar, May 12
The Badals supporting BJP's communal polity would be suicidal for Sikhs and minorities which may prove to be a grave danger to the unity and integrity of the country, said senior Akali leader Manjit Singh Calcutta in a press release here on Monday.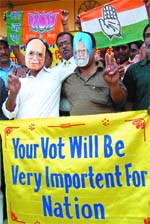 Make your vote count
Offer of several business establishments
Show voting mark, get rebates
Amritsar, May 12
Various business establishments in the city have come up with an idea to encourage people to vote. "Show the sign of voting on your fingers and get special rebates," they have announced. KK International, a hotel, has offered special discount of 20 per cent to customers whoever comes to the hotel with the voting mark. The hotel owner said this has been done to encourage people to vote in large numbers and strengthen the democratic institution in the country.

Together for a cause: Men wearing masks of L.K. Advani and Manmohan Singh spread a message of voting. Photo: Vishal Kumar
Tarlochan flayed for anti-PM statement
Amritsar, May 12
Tarlochan Singh, a member of the Rajya Sabha, has been severely criticised by AICC member M.M. Singh Cheema for using cheap and derogatory language against Prime Minister Dr Manmohan Singh in a statement issued by him. Cheema has termed the statement as a bundle of lies and sheer opportunism.
Hundreds of meter boxes lying in open
Amritsar, May 12


Hundreds of electricity-meter-boxes of iron, meant for fitting electronic meters outside residences, have been lying in the open due to the shortage of a proper storing place in the Head Meter Equipment Laboratory, Verka, here.
Meter boxes lying in the open outside Head Meter Equipment Laboratory at Verka in Amritsar. Photo: Vishal Kumar
Potters bank on hens for business, as refrigerators take on earthen pots

Amritsar, May 12
The traditional art of earthen pot-making is on the wane as the young generation is not inclined towards it as it is no more a profit making venture. With the invention of refrigerators and water coolers, people prefer electrical gadgets instead of purchasing earthen pots, besides considering that it would affect their health.
For Tapping Consumers: A potter fits taps on the earthen pots in Amritsar. Photo: Vishal Kumar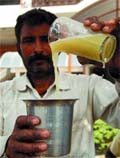 The ras remedy for stroke-free summer
Amritsar, May 12
Peak summer in northern India brings in several ailments, and sunstroke is a major sickness, which requires careful use of juices and other energy liquid drinks, including natural ones. In these times of trouble "ganne ka ras" comes in to the rescue of the Indian masses. According to naturopaths and ancient medical practitioners, sugarcane juice is an ideal remedy for sunstroke, for people who are constantly on the move during the intense heat during the day, especially in the afternoon.
Young World
AEC is now a CCNA training centre
Amritsar, May 12
Amritsar Engineering College (AEC) has become a training and examination centre for the CCNA (Cisco Certified Network Associated). The college principal said more than 200 students were doing certified courses in Sun Microsoft and Oracle every year. He said the college was the sole provider of certificates from organisations like Oracle, Sun Microsoft and Cisco.
Spring Dale students visit Kennedy Space Centre
Amritsar, May 12
A team of 12 students of Spring Dale Senior School led by Sameer Arora, director, international affairs of the school, participated in the Space School Camp at the Johnson Space Center, Houston, Texas, and the Kennedy Space Center, Orlando, Florida.
Book on modern science released
Amritsar, May 12
A book on "Learning to Learn Modern Science" authored by Prof R.M. Kalra was released by former Head of Department of Botanical and Environmental Science Dr Avinash Nagpal of Guru Nanak Dev University in a function organised at Delhi Public School here.
Refresher course in Punjabi
Amritsar, May 12
Eminent dramatist Gursharan Singh would inaugurate a 3-week refresher course in Punjabi on May 20, which would be held under the aegis of the Academic Staff College (ASC) of Guru Nanak Dev University in collaboration with the School of Punjabi Studies. ASC Director Dr H.S. Bhatia said Dr Kawaljeet Kaur Jassal, Professor, School of Punjabi Studies, would be the course coordinator. Teachers of Punjabi language from several universities and colleges would participate in the event. — TNS
Pensioners seek equality
Amritsar, May 12
The BSNL Pension Earners Association rued that pensioners were being discriminated against by the non-merger of 50 per cent DA with the basic pay. Association president Swinder Singh said here that the association requested the government to merge DA with the basic pay at par with working employees. He said DA being paid on medical allowance was fixed at the time of retirement. While it was being increased in the government PSUs and central government departments, he said and added that it must be kept increasing with the rise in inflation. — TNS
Army recruitment rally
Amritsar: An army recruitment rally would be organised from May 27 to May 28 at Khasa cantonment here to recruit soldier (clerk) and soldier (technical) from all over Punjab. These posts will be open for all castes. The age limit has been fixed at 17 and half to 23 years. — TNS