PUNJAB
HARYANA
JAMMU & KASHMIR
HIMACHAL
REGIONAL BRIEFS
NATION
OPINIONS
LETTERS
BUSINESS
SPORTS
WORLD
Every Wednesday & Saturday
Increase in prices makes farmers sell paddy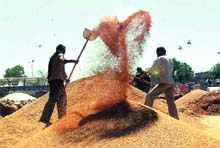 Amritsar, April 10
Even as the moisture in the wheat crop delayed its arrival in the grain markets, the farmers thronged the mandis with paddy which had been held back by them in view of the crashing prices few months ago.
Visit to Golden Temple
Curious crowd forces cine stars to skip langar sewa
Amritsar, April 10
The Bollywood stars who entered the Golden Temple premises with prayers on their lips could not perform langar sewa (voluntary service) owing to heavy rush of onlookers and members of electronic media, who were vying for bytes.
Teenager raped on pretext of marriage
Amritsar, April 10
The Islamabad police here has booked Mithu of Variam Singh Colony in the Bakar Mandi area today for allegedly raping a teenaged girl by luring her on the offer of marriage. The police lodged a complaint under sections 363, 366 and 376 of the IPC on the orders of the Judicial Magistrate, First Class, after which a medical examination was conducted on the victim that confirmed rape.
How they love to flaunt
April 8, 2009
Lives at stake
April 4, 2009
For mother earth
April 1, 2009
Punjabi 13th most widely spoken language
March 28, 2009
Help pours in for Pak Hindus
March 25, 2009
Golden Temple's environment takes a hit
March 21, 2009
Admn does away with controversial 'lotus' chowks
March 18, 2009
Amritsar's time-bomb ticks as admn looks away
March 14, 2009
Colours of joy
March 11, 2009
Biggest blood camp at Anandpur Sahib on March 10
March 7, 2009
Parking complex to start in April
March 4, 2009
Amidst chaos, MC passes Rs 279-cr budget
February 28, 2009