PUNJAB
HARYANA
JAMMU & KASHMIR
HIMACHAL
REGIONAL BRIEFS
NATION
OPINIONS
LETTERS
BUSINESS
SPORTS
WORLD
Every Wednesday & Saturday
Amritsar's time-bomb ticks as admn looks away
Amritsar, March 13
The recent deaths of two teenagers in the Anngarh area in a blast at an illegal firecracker unit being run by an SPO has once again brought the focus on the illegal and unauthorised firework factories running under the very nose of the civil and police administration and raised many questions over the government's functioning in the city.
SGPC has no room for pilgrims, they answer in protest
Amritsar, March 13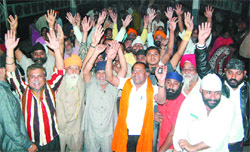 In the absence of "adequate accommodation" in the SGPC-run inns, 1,200 members of the Gondia Anandpur-Amritsar Sikh Yatra Sewa Samiti and the Bir Khalsa Sewa Dal, Nagpur

Members of the Gondia-Anandpur-Amritsar Sikh Yatra Seva Samiti and Bir Khalsa Seva Dal, Nagpur, raise slogans at Amritsar railway station. Photo: Vishal Kumar
City boy clinches Japanese scholarship
Amritsar, March 13
Amanpreet Singh, a student of Delhi Public School, has made the city proud by getting selected for the prestigious interim scholarship programme of one month in Japan.
Colours of joy
March 11, 2009
Biggest blood camp at Anandpur Sahib on March 10
March 7, 2009
Parking complex to start in April
March 4, 2009
Amidst chaos, MC passes Rs 279-cr budget
February 28, 2009
SAD, BJP councillors at loggerheads over grants
February 25, 2009
Heritage festival gets little response
February 21, 2009
Blood donation camp: Sikh bodies target world record
February 18, 2009
AIT gets huge response despite meltdown
February 14, 2009
Govt to set up state museum
February 11, 2009
Gateway of Amritsar likely to be inaugurated on Feb 10
February 7, 2009
Now, Sukhbir's poster adorns controversial building
February 4, 2009
Bring guilty to book, DC told
January 31, 2009
Nishan-e-Sikhi tower - A ray of hope for youth
January 28, 2009