Book Release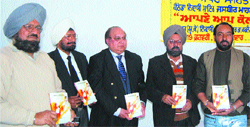 Eminent writers releasing the book 'Apne Aap Kol' written by Jasbir Mahal (not in picture) in Amritsar. Photo: Vishal Kumar
Take corrective steps within 7 days, SSP asked
Sidhu wakes up to traffic mess
Amritsar, February 20
"It's miserable and appalling. The traffic seems to be at its worst in the city, especially at the entry point, the bus stand and near the Golden Temple."
Reviews NH project
Amritsar, February 20
Navjot Singh Sidhu, BJP MP, today reviewed the Rs 400-crore four-laning national highway project connecting Dhilwan to Amritsar. He said the company executing the project had revealed that the road project would be completed by May with the exception of the Beas Bridge and some of the railway overbridges, which would also be completed by the end of July.
Kiran most significant thing happened to me: Brij Bedi


Amritsar, February 20
Hey dude, its just infatuation not love. This is what really happening with the young couples who fall in love after a couple of minutes with the beauties around them. If you really want to get the definition of love, see young Brij Bedi who fell in love with first woman IPS officer of the country Kiran Bedi after being impressed by her high thoughts and calibre. Such a private but interesting anecdotes of the marital relation of the couple could be read in "On Fire - Brij Bedi, a unique social activist," written by Nona Khanna and edited by Richa Khanna.
Canada-based Punjabi poets come calling
Amritsar, February 20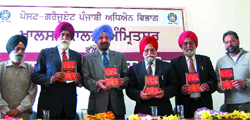 A seminar on "Parvasi Punjabi Sahitya" was organised by postgraduate department of Punjabi studies at Khalsa College here today.



Khalsa College principal Daljit SIngh (3rd from left) releases the book of NRI Shamsher Singh Sandhu in Amritsar on Friday. Photo: Vishal Kumar
'Nagar councils violating norms'
SAD leader speaks out
Amritsar, February 20
Sardool Singh Sham, SAD leader and chairman of Amritsar Cooperative Labour and Construction Union Limited, has urged the state government to cancel the tenders passed by the nagar councils of Ajnala, Patti, Jandiala Guru, Ramdas and Tarn Taran.
Beggary thrives despite Prevention Act
Amritsar, February 20
Even as the Prevention of Begging Act has already been enforced in the state, no case has been registered against even a single beggar in past two years here.
6 snatchers arrested, cell phones recovered
Amritsar, February 20
The police arrested six persons in two separate incidents for allegedly snatching and stealing mobile phones, purses, etc. As many as 22 mobile phones, digital cameras, a pistol of .32 bore, two rounds and more than Rs 1 lakh were recovered from them.
Emphasis on environment protection
Amritsar, February 20
The Sant Singh Sukha Singh College of Commerce for Women organised a seminar on "Environment protection" here. Dr Inderjit Kaur, president, All-India Pingalwara Society, presided over the function.
Campus Buzz
GND varsity professor attends Hong Kong symposium
Amritsar, February 20
Prof Jaspal Sandhu, dean, faculty of sports medicine of GND University, attended the international sports medicine symposium at Hong Kong and delivered plenary lectures. The symposium was conducted by the Chinese University of Hong Kong, Hong Kong Sports Medicine and the Asian Federation of Sports Medicine.
Schools & Colleges
Gagan overall winner of BBK DAV sports meet
Amritsar, February 20
The annual sports meet of BBK DAV College was held on the college premises here today. Deputy commissioner Bhagwant Singh along with principal Neelam Kamra of the college inaugurated the meet.
Kalpana Chawla award for five city women
Amritsar, February 20
The Punjab Engineering College Chandigarh Old Boys Association (PECCOBA) felicitated five local women with the Kalpana Chawla excellence award for carving out a niche for themselves in their chosen fields here today.
Chemists' strike on March 18
Amritsar, February 20
About 25,000 chemists, both wholesalers and retailers, across the state would hold strike against alleged dictatorial guidelines of the health department on March 18. The strike call was given by the Punjab Chemists Association (PCA).
Protest against privatisation
Tarn Taran, February 20
A large number of farmers, labourers and members of different working class representatives staged a dharna in front of the deputy commissioner's office here yesterday, protesting against the privatisation policies of the government. CPM secretary Mangat Ram Pasla, while addressing the gathering, condemned the Union and state governments for their alleged anti-people policies.
Ambumani to kick off health campaign
Amritsar, February 20
Dr Ambumani Ramadoss, union minister for health and family welfare, will kick off a health awareness campaign at Sri Guru Ramdas Institute of Medical Science and Research tomorrow.
Taraksheel Society flays ex-minister's statement
Amritsar, February 20
The Taraksheel Society, Punjab, has announced to give a reward of Rs 5 lakh to Brahmrishi Shri Kumar Swami if he cured a person by recitation of mantras.