PUNJAB
HARYANA
JAMMU & KASHMIR
HIMACHAL
REGIONAL BRIEFS
NATION
OPINIONS
LETTERS
BUSINESS
SPORTS
WORLD
Every Wednesday & Saturday
Parking complex to start in April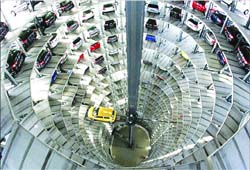 Amritsar, March 3
The central government-aided Rs 35.8-crore multi-layer parking complex near the Golden Temple will be commissioned next month to decongest the area for the convenience of thousands of pilgrims visiting the holy shrine.
Frescoes, wall paintings in temples fast disappearing
Amritsar, March 3
A number of old temples containing beautiful frescos and wall paintings are fast disappearing thanks to indifferent approach of its caretakers and absence of government policy to preserve art.

Decaying paintings at Veerbhan Da Shivala temple in Amritsar. Photo: Vishal Kumar
Hotel assn seeks exemption from luxury tax
Amritsar, March 3
The Hotel, Restaurants and Bar Welfare Association has been up in arms against the government proposal to impose eight per cent luxury tax on the hospitality segment thus adding burden to the beleaguered industry under siege during economic meltdown.
Amidst chaos, MC passes Rs 279-cr budget
February 28, 2009
SAD, BJP councillors at loggerheads over grants
February 25, 2009
Heritage festival gets little response
February 21, 2009
Blood donation camp: Sikh bodies target world record
February 18, 2009
AIT gets huge response despite meltdown
February 14, 2009
Govt to set up state museum
February 11, 2009
Gateway of Amritsar likely to be inaugurated on Feb 10
February 7, 2009
Now, Sukhbir's poster adorns controversial building
February 4, 2009
Bring guilty to book, DC told
January 31, 2009
Nishan-e-Sikhi tower - A ray of hope for youth
January 28, 2009
Chowki in charge suspended, 12
cops shifted
January 24, 2009
City turns into police fort for 'coronation'
January 21, 2009
Lacklustre response to National Youth Fest
January 17, 2009