Every Wednesday & Saturday
Traffic Mismanagement
Lives at stake
The roundabout trouble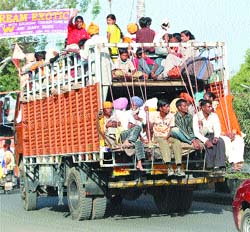 Amritsar, April 3
Traffic chaos and accidents have become the order of the day at Chowk Mahan Singh Gate near the bus stand here, which was demolished about five months back to smoothen traffic.
Trucks in Amritsar carry devotees in violation of rules and put hundreds of lives in danger. Photo: Vishal Kumar
No lesson learnt from mishaps
Amritsar, April 3
Even the recent heart-rending incident of killing of 24 persons in a road accident near Naina Devi shrine where trucks carrying pilgrims rammed into a tree, has failed to awake the district administration and police to come out of their deep slumber.
Little threats abound city periphery
Mosquitoes, flies a huge risk for commuters
Amritsar, April 3
Driving a bike at 60 km per hour, a fly enters your eye causing you to immediately brush off the stinging itch from it, thus diverting your attention and exposing you to a huge risk.