Experts suggest more security for Kumbh Mela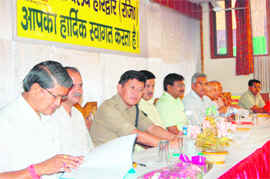 Haridwar, May 15
It's not often that rival politicians, police officials, administrators, journalists, social activists, spiritual leaders, local citizens and academicians share the same dais. But just a day before counting of votes, all of them did so and spoke on the development of Haridwar during a seminar organised by the Press club, here today.
Congress candidate Harish Rawat, SSP Sanjay Gunjiyal, DIG Alok SHarma, among others attend the seminar in Haridwar on Friday. A Tribune photograph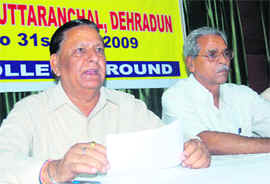 U'khand Gold Cup tourney begins tomorrow
Dehradun, May 15
The 27th All-India Uttaranchal Gold Cup Cricket Tournament will begin here from May 17. As many as 16 teams from various states are scheduled to participate. The tournament, played on a league-cum-knockout basis, will conclude on May 31.
Hira Singh Bisht, president of Uttarakhand Cricket Association, addresses mediapersons in Dehradun on Friday. A Tribune photograph

Eight in fray for Kapkot bypoll
Dehradun, May 15
With the rejection of nomination papers of BSP candidate yesterday, as many as eight contestants are left in the fray for the Kapkot assembly byelection scheduled to be held on May 28.
All set for Hindi theatre festival
Dehradun, May 15
To give impetus to Hindi theatre, the Doon Ghati Rang Manch will be holding a four-day theatre festival from May 17.
Computerised property registration offices soon
Dehradun, May 15
As part of a statewide project, property registration offices in Dehradun and Haridwar districts are set to become fully computerised, and work has already been started in Rishikesh, Vikas Nagar and Laksar.
Gandhians pray for stable govt
Haridwar, May 15
With today's exit polls showing a fractured mandate, which has cast doubts over a stable government at the Centre, Gandhians in the city today prayed in their own unique way for a stable Central government.
BSP leaders deny joining rebel Qazi
Dehradun, May 15
The controversy surrounding the revolt by Bahujan Samaj Party (BSP) legislator from Mangalore assembly segment in Haridwar, Qazi Nizamuddin, refuses to die with two legislators denying joining hands with Qazi, here today.
Bahuguna: Cong MLA behind libellous posters
Dehradun, May 15
Infighting in the Uttarakhand Congress has come to the fore with one of the Congress legislators said to be behind the distribution of defamatory pamphlets and posters against the party candidate from the Tehri parliamentary constituency, Vijay Bahuguna.
Trials for football camp organised
Dehradun, May 15
Trials for the 5th Football Summer Camp to be organised by Vijay Cantt Football Club got underway, here today. The 21-day camp will begin from May 17. In all, 250 children have confirmed their participation in the camp that will be organised for two hours everyday from 5:30 am to 7:30 am. The camp is exclusively meant for children in the age groups of 8-15 years.
Mayor mourns death of Sushil Jain
Dehradun, May 15
Dehradun Mayor, Vinod Chamoli, has expressed grief over the death of Sushil Jain, former Dehradun Municipality president.