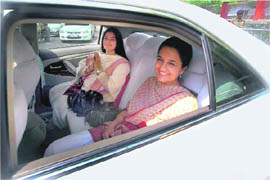 Haryana minister Kiran Choudhry with her daughter Shruti Choudhry leave after a meeting with Congress president Sonia Gandhi at her residence in New Delhi on Monday. — PTI
Karnal MP thanks Cong leadership for victory
Karnal, May 18
Karnal MP Arvind Sharma, who retained his seat and made it to the Lok Sabha for the third time today expressed his gratitude to AICC president Sonia Gandhi, Prime Minister Manmohan Singh, Chief Minister and party general secretary Rahul Gandhi for expressing faith in him and ensuring his victory.
Voters endorsed Cong policies: HPCC
Panipat, May 18
Buoyant by the party's success in the Lok Sabha elections, working president of the HPCC Kuldeep Sharma today said by voting for the party candidates in nine out of 10 seats, the state electorate had endorsed the policies adopted by the Congress both at the Center and at state levels.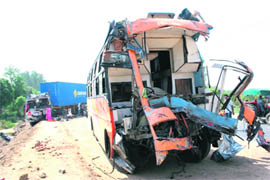 The wreckage of a private bus from Rajasthan that collided head-on with a truck near IMT in Rohtak on Monday. The truck driver was killed on the spot and nine bus passengers sustained injuries. Photo: Manoj Dhaka
HC stays HUDA chief's
sentence
Chandigarh, May 18
In a major relief to HUDA chief administrator-cum-senior IAS officer TC Gupta, the Punjab and Haryana High Court has stayed the operation of the May 2008 sentence order passed by the district consumer disputes redressal forum.
Eyewitness backtracks in Dera case
Chandigarh, May 18
Adding a twist to the controversy shrouding the murder of Dera Saccha Sauda manager Faquir Chand, an eyewitness today backtracked from his initial statement, alleging he was compelled by the victim's son to make statements for giving dera chief Sant Gurmeet Singh Ram Rahim a bad name.
Lok adalat settles 120 cases
Sirsa, May 18
As many as 120 litigations were settled through mutual compromise in a lok adalat held here on Saturday.
Polytechnic students go on strike
Sirsa, May 18
Students of the Government Polytechnic here went on strike today against the decision of the Haryana State Board of Technical Education to conduct examinations of the 2nd semester students starting on June 5 on the subjective type pattern instead of the usual objective type.
Protest over liquor vend near residential colony
Gurgaon, May 18
Heads of the DLF Qutab Plaza Condominium Association and the DLF Qutab Enclave Residents Welfare Association along with a group of residents of D, G and H blocks held a peaceful congregation outside an illegal liquor vendor at Kachra Chowk here today.
Dearness relief for pensioners
Chandigarh, May 18
The Haryana Government today decided to release Dearness Relief (DR) to its pensioners and family pensioners with effect from January 2009 thus benefitting them to the tune of Rs 86.60 crore during the current financial year.
Women protest against erratic water supply
Faridabad, May 18
Large number of women from Sector 55 in the Ballabagarh area, near here, today held demonstration outside the water works of Municipal Corporation of Faridabad in protest against erratic supply of water.
Two children drowned
Sirsa, May 18
Two schoolchildren were drowned in a pond at Kalanwali village in the district today. Bodies of the victims have been recovered without intimating the police.
Man commits suicide
Sirsa, May 18
Dharamvir Singh (26), a corporal in the local Air Force Station, allegedly committed suicide by jumping before a running train, near the Meerpur area on Monday.