Six civil hospitals to be upgraded
Gurgaon, May 21
In order to provide modern healthcare facilities in government hospitals, the state government has decided to spend Rs 90 crore.
INLD to hold state-level meeting on June 1
To plan future course of action
Chandigarh, May 21
It's back to the workers again for the Indian National
Lok Dal (INLD), still in shock following its rout in the Lok
Sabha elections.
Students develop hybrid motorcycle
Sirsa, May 21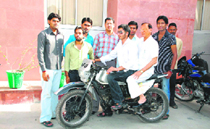 Students of JCD College
of Engineering have
developed a hybrid
motorcycle that can
run on petrol as well
as on battery.
The newly developed
hybrid motorcycle in
Sirsa. Photo: Amit Soni

AstroTurf to add to players' competitiveness
Sirsa, May 21
With the beginning of the construction work of AstroTurf ground for hockey at Shaheed Bhagat Singh Sports Stadium here, a new chapter is going to be added in the history of sports in Sirsa.