PUNJAB
HARYANA
JAMMU & KASHMIR
HIMACHAL
REGIONAL BRIEFS
NATION
OPINIONS
LETTERS
BUSINESS
SPORTS
WORLD
Cabinet expansion?
MLAs eye ministerial berth
Chandigarh, May 14
With polling out of the way and results to be out this weekend, MLAs, hopeful of securing a ministerial berth in the last year of the five-year Congress rule, are now eyeing the cabinet expansion.
Parties to witness realignment ahead of Assembly polls
Hisar, May 14
Political realignments are likely to take place across all political parties in Haryana as a prelude to the state Assembly elections due early next year.
Students risk life to attend classes
Dabwali (Sirsa), May 14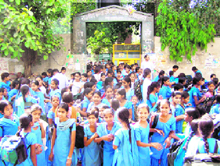 Due to the indifferent attitude of the authorities, the students of Government Girls Senior Secondary School here have been studying under a constant threat to their lives due to the dilapidated condition of the school building.

Chaos outside Government Girls Senior Secondary School, Dabwali, after the parents forced its closure due to the dilapidated condition of the school building. Photo: Amit Soni

BSP in no mood to relax
May 12, 2009
Rural domestic consumers in for better times
May 8, 2009
High pass percentage raises eyebrows
May 5, 2009
Weather may play spoilsport on polling day
May 1, 2009
Villagers yearn for drinking water
April 28, 2009
Hot weather, 'cold' voter
April 24, 2009
Fires during harvesting spell doom
April 21, 2009
Saner voice striving for attention
April 17, 2009
Govt told to pay compensation
April 14, 2009
Battling khap, social stigma
April 10, 2009
Cellphone users on candidates' radar
April 7, 2009
Hisar gets knowledge centre
April 3, 2009