Traffic lights at shortened roundabouts to solve chaos
Amritsar, May 22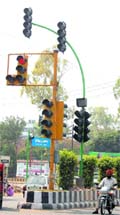 New and ultramodern traffic lights are being installed at various chowks where the corporation has shortened the roundabouts to solve the traffic chaos. However, the shortening of huge roundabouts had come under severe criticism as it led to longer traffic jams, besides causing accidents and often brawls. The Municipal Corporation had shortened roundabouts at Kitchlu Chowk, Mahan Singh Gate Chowk, Hall Gate Chowk, Ram Bagh Gate, Dharam Singh Market Chowk, Sheranwala Gate, etc. The worst affected chowks were Kitchlu Chowk, near district courts, where as many as eight roads converge, and Mahan Singh Chowk, from where the buses enter the Bus Stand.
New ultramodern traffic lights (green poles) being installed at various chowks, which were shortened by the Municipal Corporation to smoothen the traffic flow, in Amritsar. Photo: Vishal Kumar
Bus stop with solar lights fascinates villagers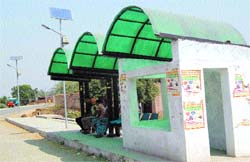 Amritsar, May 22
The beautiful bus stop covered with coloured fibre sheets at Rajatal village, near the Indo-Pak border and on the Attari-Chhabal road, is fascinating people of the region.



Solar lights and a beautiful bus stop covered with coloured fibre sheets at Rajatal village, near the Indo-Pak border and on the Attari-Chhabal road. Photo: Vishal Kumar
Wears:'White' strikes in summer
Amritsar, May 22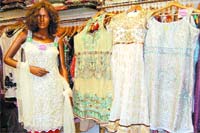 White is always helpful in summer as it beats the heat and gives a cool feeling. On the onset of the season, white is in great demand. However, for formal wear there are some special dresses. Amritsar being one of the hottest places in the country with temperatures soaring around 46 degree Celsius, people prefer not to move out of their homes to attend parties, especially in the daytime even as this is also the time of functions and weddings.
'Use buckets, not pipes to wash vehicles'
Amritsar, May 22
A local NGO, Mission Aagaaz, has decided to launch a major awareness campaign to educate residents, especially the vehicle owners, in the city not to waste water in cleaning of the cars.
Locals celebrate PM's second term
Amritsar, May 22
Locals in general and the family members of Dr Manmohan Singh in particular celebrated his re-appointment as Prime Minister here today.
AIPL Ambuja announces mixed-use township
Amritsar, May 22
AIPL Ambuja today announced the launch of its first mixed-use township - Dream City - entailing an investment of over Rs 600 crore in Amritsar.
Its time to save heritage of bio-diversity
Amritsar, May 22
To mark International Bio-Diversity Day, NGO Mission Aagaaz, today appealed to the people, especially the younger generation, to rise to the occasion and take safeguards for saving "Precious heritage of bio-diversity" for the future generations.
Varsity gets project on environmental conservation
Amritsar, May 22
The Department of Botanical and Environmental Sciences of Guru Nanak Dev University has been sanctioned a research project on environmental conservation by the University Grants Commission under the Special Assistance Programme (SAP) for five years.
Seminar on 'information access initiatives'
Amritsar, May 22
Guru Nanak Dev University will organise a two-day national seminar on "Information access initiatives and rural India" under the aegis of its Bhai Gurdas Library here on June 25 and 26.
Workshop on heritage village today
Amritsar, May 22
A one-day workshop on setting up of a heritage village at Guru Nanak Dev University with the assistance of the Central and Punjab governments would be conducted on university premises on May 23.
ICSE exam Shubreet gets 96.8 pc marks in Class X
Amritsar, May 22
Shubreet Kaur of Sri Guru Harkrishan Public School, Basant Avenue, has topped the Class X examination conducted by the ICSE by securing 96.8 per cent marks, the results of which were declared on Thursday.
Admission schedule released
Amritsar, May 22
Guru Nanak Dev University has released the schedule of admissions to B.Sc Agriculture (honours), M.Sc agriculture (honours) and B.Sc food science and technology being run at the local Khalsa College for the academic session 2009-10.
Punjabi conference in Toronto from July 22
Amritsar, May 22
The World Punjabi Conference coordinator Pragat Singh Bagga said that the three-day World Punjabi Conference would be held at Toronto from July 22.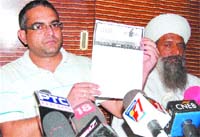 NRI duped by wife
Amritsar, May 22
Karanveer Singh, an NRI, would have never imagined that his wife would deceive him only to fulfil her wishes to go abroad and benefit her parents.



NRI Karanveer Singh (left) addresses mediapersons in Amritsar on Friday. Photo: Vishal Kumar
Three booked for demanding dowry
Tarn Taran, May 22
Husband Jaswant Singh, father-in-law Rulda Singh and mother-in-law Ninder Kaur of Amandeep Kaur have been booked under sections 498-A and 406 of the IPC. A case has been registered on the complaint of Amandeep, daughter of Roor Singh, resident of Raipur village, falling under Ajnala subdivision.
Cyclist killed in road mishap
Amritsar, May 22
A cyclist, Jugal Kishor (21), resident of Nane village, falling under Kathunangal police station, died when a car hit him on the Kathunangal road here yesterday.
Navjot Sidhu takes out 'vijay yatra'
Amritsar, May 22
Navjot Singh Sidhu yesterday took out a "vijay yatra" to celebrate his hat-trick as MP from Amritsar.