PUNJAB
HARYANA
JAMMU & KASHMIR
HIMACHAL
REGIONAL BRIEFS
NATION
OPINIONS
LETTERS
BUSINESS
SPORTS
WORLD
Every Wednesday & Saturday
The burning issue of wheat crop stubble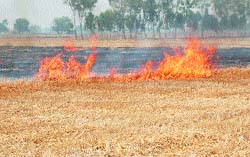 Amritsar, May 19
Despite a ban by District Magistrate Bhagwant Singh on the burning of wheat crop stubble, the practice still continues unabated in the rural belt of the district, including Attari, Ajnala and Majitha, by the farmers unaware of its harms to environment and health of the general public.
Staff shortage hits police force
Cops work double shift without any incentive
Amritsar, May 19
The police, the major law and order enforcement agency, remains on the receiving end as it faces heavy staff shortage and its men are forced to do almost double shift on daily basis and that too without any incentive or remuneration.
POLL WIN
Residents congrat Sonia, Manmohan
Amritsar, May 19
While congratulating Primer Minister Dr Manmohan Singh and UPA chairperson Sonia Gandhi, city residents in a candid chat with The Tribune expressed their views on the winning of the Congress and it allies.
Takeaway craze grips holy city
May 16, 2009
When Manmohan talks of his roots…
May 13, 2009
Cover up nullah or face negative voting: Residents
May 9, 2009
Fearing EC action, admn carries out hoarding-removal task
May 6, 2009
Cast of 'Munde UK De' comes calling
May 2, 2009
Of chai, kulcha and the aam admi
April 29, 2009
These buildings pose threat to inhabitants, passersby
April 25, 2009
Holy city honkers finally under pressure
April 22, 2009
3 years gone, wire laying work still lies incomplete
April 18, 2009
Vendors play with danger
April 15, 2009
Increase in prices makes farmers sell paddy
April 11, 2009