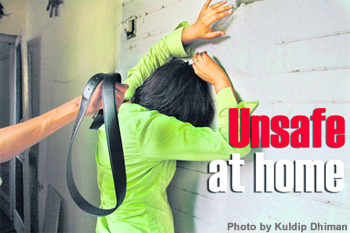 Shoma A. Chatterji on the ugly face of domestic violence in India and how far the law has been able to serve as a deterrent

Roopa, the 'single' sister in the family, did not have any problems with her brothers. But when they got married, their wives were determined to throw the woman out of the house. The unsuspecting woman became a victim of verbal, physical and economic abuse and could do nothing about it.
Lip-licking lauki
Puspesh Pant reinvents the humble lauki with everybody's summer favourite mint and coriander chutney
Advent of summer always brings visions of tall cool drinks — mint juleps and home-made lemonades, tangy raytas and refreshing salads.


A twist in the tale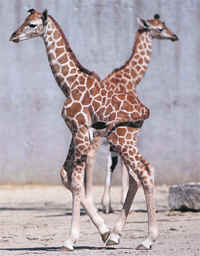 Over four-week-old female Rothschild giraffe Hera (front) walks past a three-week-old male Hermes in their enclosure at Knies Kinderzoo, in Rapperswil, Switzerland. — Reuters photo

Tanks down the years
Rajendra Rajan visits the Cavalry Tank Museum in Ahmednagar, Maharashtra, the only museum of its kind in Asia
Museums enable people to explore various kinds of collections for inspiration, learning and enjoyment. There is no dearth of objects that museum buffs could conserve in these institutions. The Cavalry Tank Museum of the Armoured Corps Centre and School, Ahmednagar, in Maharashtra is one such museum where historical and antique tanks, specialist vehicles, armoured cars and self-propelled guns have been exhibited.
"Tagore's songs lose essence in remixing"
Even at 75, Asha Bhonsle has the energy of a teenager. Bubbly and gracious, she puts you at ease with her down-to-earth attitude. Sreya Basu catches up with the music diva during her visit to Kolkata after 16 years
Lull before the storm
The standoff between producers and multiplex owners seems to be well-timed in the lean summer period. But this drought would soon be over, writes Derek Bose
Summer is usually a bad time for Bollywood. They call it the silly season. Nothing seems to happen at this time of the year as no major film is released, studios and labs remain deserted, production is low key and most artistes and technicians move to cooler climes on their annual holiday.
Magical touch of Mehra
M.L. Dhawan
While it is common to hear film-actors, producers and even writers to turn directors, there are not many lyricists who went on to direct movies. Yet that is exactly what Prakash Mehra, who died recently, was before directing his first film Hasina Maan Jayegi( 1968).The thundering success of his debut venture inspired him to continue in the director's chair.


HELP for children, women
Entrepreneur Nighat Shafi Pandit has formed HELP (Human Effort for Love and Peace) to rehabilitate children and women hit by the conflict in Jammu and Kashmir. Centres have been opened in the valley that give them training in embroidery and weaving, says Aditi Bhaduri

Silver jewellery for the modern girl
Designers have come up with lightweight silver jewellery, which looks elegant, but requires good care, says Dhanvanti Ramarao
You say 'gold is a must…diamonds are a girl's best friends…platinum is what you deserve'. But considering the cost and the variety, it is silver which attracts most of the style-conscious people today, as it gives them the freedom of experimenting without worrying about any holes in their pockets.