Factories ill-equipped to tackle fires
Bahadurgarh (Jhajjar), June 4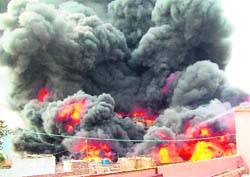 The recent devastating fire in Mine Chemical Factory at the local Modern Industry Estate (MIE) has yet again exposed not only inadequate firefighting measures being taken by factory owners

A fire that broke out in Mine Chemical Factory in Bahadurgarh recently.
Call centre for students of distance education
Rohtak, June 4
Students of distance education courses run by the Directorate of Distance Education (DDE) of Maharshi Dayanand Univerisity, Rohtak, will now be able to get their grievances redressed through a telephone call.
Vector-borne diseases
Sirsa admin takes preventive steps
Sirsa, June 4
Vector-borne diseases spread their tentacles every year during summer. Malaria, dengue and viral fever not only play havoc with the health of hundreds of people across the state, but also prove fatal sometimes.