Postal Department's negligence is student's nightmare
Deepkamal Kaur/TNS
Jalandhar, June 19
Mishandling of the admission form and copies of testimonials of a candidate by the speed post wing of Jalandhar cantonment post office is likely to cost her a complimentary seat in a nursing college.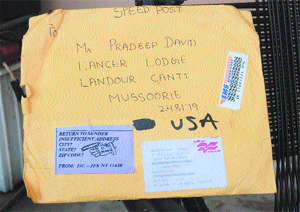 Jyoti David (21), a resident of Sansarpur village here, said she wanted to take admission in Duncan Hospital in Bihar for which the Himalayan Inland Mission, a Christian organisation based at Mussourie, was to sponsor her for a free seat.
She said her brother, who stayed at Mussourie, procured a form for her on May 29 and dispatched it the same day.
Jyoti said she received the form on June 1 and sent it back to Mussourie the next day tagging copies of her testimonials via speed post, but the dispatch did not reach there.
"We kept inquiring about it at the post office and even the General Post Office here but no one was able to locate it. The staff enquired about the same from their Mysore office since the two places sound similar, but to no avail," they said.
"As we kept running from pillar to post, the last date for submission of the form passed on June 15. Surprisingly, on June 18 we received the packet at our place, which had been dispatched back to us from New York. We wondered how it reached the USA when we had marked the address of Mussourie and paid just Rs 34 for the service," said Jyoti's mother Monika David.
Monika said she was worried about the career of her daughter. "In case, the institute does not accept a late form, Jyoti may be deprived of the free seat. Since the cost of a nursing course and other expenses in the CMC, Ludhiana, and other institutes is over Rs 1 lakh, it may come up as a huge burden for me," she said.
She showed the packet that indicated a return stamp from the USA that read that the city, state and zip code did not match. Gurdeep Singh, Manager, Speed Post, GPO, said it was perhaps because of an incomplete address on the packet that the error occurred.
"The sender had told me earlier that she had written UK on the packet, by which she meant Uttarakhand rather than United Kingdom. But when we saw the packet, it had US written on it," he said.
Jyoti argued that US had not been written by her but by the US postal staff. "Had we written US, do you think the staff would have levied only Rs 34? Or else, it should have at least reflected in the address given on the receipt?" she questioned.