Role of media vital in democracy, says Haridwar DM
Haridwar, June 30
While addressing members of the Working Journalist Union of Haridwar yesterday, newly appointed district magistrate of Haridwar R Meenakshi Sundaram said one of the vital aspects of democracy is that it gives press the freedom and role to point out flaws in the system, which goes a long way in improving efficiency of the administration.
Soon, private doctors to help curb HIV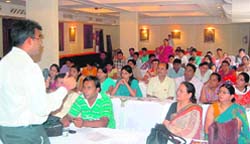 Dehradun, June 30
To check the spread of HIV infection, the Uttarakhand AIDS Control Society (USACS) will increase the accessibility of medical services among high-risk groups.



Dr. Aman singh, NACO expert, at AIDS workshop for NGOs at Dehradun on Tuesday. A Tribune photograph
Apollo holds health camp
Dehradun, June 30
Apollo Clinic organised a health camp for the employees of Indian Institute of Remote Sensing (IIRS) and their families today at the institute. The camp was held in association with Indraprasth Apollo Hospital.
Irrigation Dept Properties
Hand them to U'khand, HC tells UP
Dehradun, June 30
In connection with a petition pertaining to the ownership of irrigation department properties in the hill state of Uttarakhand, which were under the control of the Uttar Pradesh government, the Nainital High Court has ordered that such properties be handed over to Uttarakhand.
Raise credit-deposit ratio, 'Nishank' tells bankers
Dehradun, June 30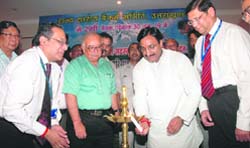 Poor credit off-take as manifested by low credit-deposit (CD) ratio has the Chief Minister Dr Ramesh Pokhriyal worried. As a result, he has asked the State-Level Bankers Committee (SLBC) to step up efforts to increase it substantially to facilitate creation of more self-employment opportunities and effective implementation of welfare schemes in the hill state.
Chief Minister Ramesh Pokhriyal 'Nishank' inaugurates the bankers meeting in Dehradun on Tuesday. A Tribune photograph
BHEL nets 170-cr project
Haridwar, June 30
The Bharat Heavy Electricals Limited (BHEL) today secured a Rs 170 crore contract from Chennai Petroleum Corporation Limited (CPCL) for setting up an energy-efficient and eco-friendly co-generation power plant at the corporation's Manali Refinery.
ABVP leaders behaviour condemned
Dehradun, June 30
DBS College Teachers Association has condemned Akhil Bhartiya Vidhyarthi Parishad (ABVP) members for misbehaving with Joginder Swarup, secretary of DAV management committee, when the latter visited the college yesterday.
CM to expand ministry today
Dehradun, June 30
Uttarakhand Chief Minister Ramesh Pokhriyal Nishank is set to expand his ministry tomorrow. He was sworn in on June 27 as the new CM, along with three other senior ministers.
Fire at irrigation institute
Roorkee, June 30
Fire broke out in the EPABX room of the Irrigation Research Institute here this morning.
5 drown in accidents
Pitthoragarh, June 30
Pre-monsoon rains have taken a toll of five lives in this area prone to landslides during the past three days.
New Gypsy down Pachwadoon 3-0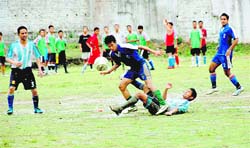 Dehradun, June 30
The match between Doon Eagle and Garhwal Sporting ended in a draw at the District Football league underway at Pavilion Ground here today. In the first half Garhwal Sporting despite several efforts failed to earn a goal. In the 15th minute of the match it was a close call for Garhwal Sporting but its forward played a rash shot that sailed over the bar.