PUNJAB
HARYANA
JAMMU & KASHMIR
HIMACHAL
REGIONAL BRIEFS
NATION
OPINIONS
LETTERS
BUSINESS
SPORTS
WORLD

Wednesday, August 19, 2009, Chandigarh, India
Updated at 3:00 am (IST)

Consensus eludes CJs on All-India Judicial Service
New Delhi, August 18
The Chief Justices' Conference 2009 has come out with a 21-point resolution, demanding the continuance of fast-track courts beyond March 2010 and setting up of the proposed 5,000 fast Gram Nyayalayas without insisting on matching grants from the states.


Action plan
Students burn train in Bihar
Patna, August 18
An irate mob comprising mainly students set afire four air-conditioned bogies of New Delhi-Rajgir Shramjeevi Express (2392down) at Bihta railway station (25km away from Patna) on Tuesday.
CAST YOUR VOTE
Should schools be closed to prevent the spread of swine flu?

EDUCATION
JOBS & CAREERS
HEALTH & FITNESS
SCIENCE & TECHNOLOGY
REAL ESTATE
SPORTS
TRIBUNE CLASSIFIEDS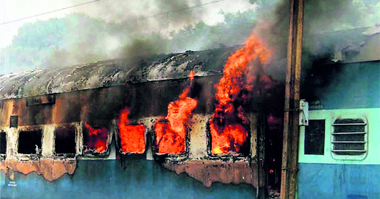 Flames and smoke billow out of the Delhi-Patna Shramjeevi Express at Bihata, near Patna, on Tuesday. — PTI
PM: Nation staring at impending drought
New Delhi, August 18
Prime Minister Manmohan Singh today said "multiple environmental crisis" confronting the country had created an alarming situation.
Testing times for NICD, suspects
Chandigarh, August 18
With the National Institute for Communicable Diseases (NICD) severely overburdened with testing H1N1 virus samples from across the country, the number of suspected patients in the region awaiting their results is now running into hundreds.
TODAY'S SPECIALS
HIMACHAL PLUS

J&K PLUS

JALANDHAR PLUS

AMRITSAR PLUS

JOBS & CAREERS

HEALTH & FITNESS

NDA 60 Glorious Years
1857 The First Challenge
E - Revolution 2005:
A Two-day IT conclave
Assembly Elections - 2005
Turbans
Chandigarh is 50
125 Years of The Tribune
India: The Tasks Ahead
India at Sixty
A Tribune Supplement
EARLIER FEATURES
On Sundays
On Saturdays
RSS chief roots for a younger BJP
New Delhi, August 18
On the eve of the crucial three-day Chintan Baithak of the BJP beginning in Shimla tomorrow, RSS chief Mohanrao Bhagwat stressed the need for generational change in BJP.


Nation Page: Thackeray blasts Jaswant, Advani
Honour Killing
Boy lynched by kin of beloved
Amritsar, August 18
In an incident of honour killing, family members and relatives of a Chheharta-based girl kidnapped her 21-year-old lover and killed him with sharp-edged weapons after tying him to a tree at a park in broad daylight here today.
Ludhiana set to have police commissionerate
Chandigarh, August 18
Ludhiana is set to become the first Police Commissionerate in Punjab with Deputy Chief Minister Sukhbir Singh Badal giving the go ahead to the Punjab police to make a detailed presentation in this regard.
AICC rejig on cards
Union ministers likely to be freed of additional charge
New Delhi, August 18
Five Union ministers, who have additional responsibilities in the Congress organisation, are likely to make way for new incumbents in the long-awaited AICC reshuffle and work reallocation expected to be announced later this month.
PM warns of fresh strikes by Pak groups
August 18, 2009
PM for war on judicial backlog
August 17, 2009
PM's resolve for growth with social justice
August 16, 2009
President focuses on swine flu, drought
August 15, 2009
Cabinet's bitter dose for Azad over H1N1
August 14, 2009
H1N1 claims five more
August 13, 2009
Water, power woes deepen
August 12, 2009
Three more deaths as govt sketches strategy
August 11, 2009
NRI, teacher new fatalities
August 10, 2009
Finally, drought reality sinks in
August 9, 2009
Govt wakes up on food front
August 8, 2009