PUNJAB
HARYANA
JAMMU & KASHMIR
HIMACHAL
REGIONAL BRIEFS
NATION
OPINIONS
LETTERS
BUSINESS
SPORTS
WORLD
'Forest mafia' active in wildlife sanctuary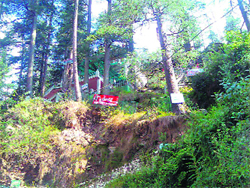 Kasol (Kullu), August 18
The "forest mafia" in connivance with the wildlife and forest staff here has turned the Kanawar Wildlife Sanctuary, notified in 1954, into a free-for-all for violators.

Billboards on deodar trees have come up in the Kanawar Wildlife Sanctuary in violation of the Wildlife Protection Act.
Rising graft cases stir debate
Hamirpur, August 18
While reports of government officials being arrested for accepting bribe from public at many places in the state are becoming frequent, it is now being debated whether the existing measures to check corruption are of any help or more needs to be done.
SC directions not complied with
August 12, 2009
City Mobility Plan to rid Shimla of traffic snarls
August 5, 2009
Pharmaceutical units in residential areas despite ban
July 29, 2009
Trees being choked to death
July 22, 2009
Amendment to land tenancy Act sought
July 15, 2009
Wastage of public funds in Bhagsunag
July 8, 2009
Kangra admn, locals join hands to save lake
July 1, 2009
Govt mulls BOT option for water schemes
June 24, 2009
State gets another chance to set up film studio
June 17, 2009
Blame it on improper distribution
June 10, 2009