PUNJAB
HARYANA
JAMMU & KASHMIR
HIMACHAL
REGIONAL BRIEFS
NATION
OPINIONS
LETTERS
BUSINESS
SPORTS
WORLD

Friday, August 21, 2009, Chandigarh, India
Updated at 3:00 am (IST)

Paddy MSP up by Rs 100
Farmer bodies express displeasure
New Delhi, August 20
The Centre today announced an increase of Rs 100 (per quintal) in the minimum support price (MSP) of paddy for the 2009-10 fiscal. The increase, however, was quite low as compared to that sought by various states, including Rs 300/quintal by Punjab.
Punjab page: 'Fraud' to experts, state govt shocked
BJP continues Jaswant bashing
Shimla, August 20
Having succeeded in diverting the focus away from the urgent organisational matters facing the BJP to Jaswant Singh's book on the first day of the three-day Chintan Baithak, the party appeared in no mood to let go this issue.


Editorial : A rattled party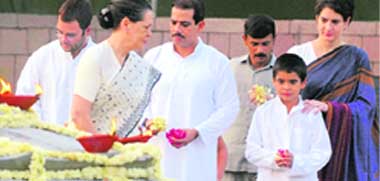 Congress chief Sonia Gandhi with Rahul, Priyanka, Robert Vadra and grandson Rehan pays tribute at Veer Bhumi on the 65th birth anniversary of former Prime Minister Rajiv Gandhi in New Delhi on Thursday. Tribune photo: Mukesh Aggarwal

CAST YOUR VOTE
Should schools be closed to prevent the spread of swine flu?

EDUCATION
JOBS & CAREERS
HEALTH & FITNESS
SCIENCE & TECHNOLOGY
REAL ESTATE
SPORTS
TRIBUNE CLASSIFIEDS
Jaswant not to bow to accusations
New Delhi, August 20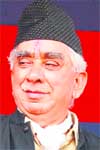 Upon his return to the capital today, expelled BJP leader Jaswant Singh hardly looked like the one who had lost his all. Wearing confidence on his sleeve, the veteran seemed to declare -- When all is lost, the future still remains - and said he would continue to represent Darjeeling in the Lok Sabha as an Independent member.
H1N1 claims 10 more lives, toll 44
New Delhi/Bangalore, August 20
In the highest number of casualties reported in a day, 10 persons died of swine flu across the country taking the nationwide toll to 44 today as Karnataka recorded five deaths due to the deadly virus, which claimed its first victims in the national capital.
| | |
| --- | --- |
| | PUNJAB: 'Fraud' to experts, state govt shocked |
| | HARYANA: Tributes paid to Rajiv |
| | |
| | HIMACHAL: Cong stages walkout over teachers' issue |
| | CHANDIGARH: STA secy's husband booked for fraud |
NDA 60 Glorious Years
1857 The First Challenge
E - Revolution 2005:
A Two-day IT conclave
Assembly Elections - 2005
Turbans
Chandigarh is 50
125 Years of The Tribune
India: The Tasks Ahead
India at Sixty
A Tribune Supplement
EARLIER FEATURES
On Sundays
On Saturdays
Ayurveda, Unani systems to fight flu
New Delhi, August 20
Concerned over the rising number of H1N1 cases and mortality, which has caused panic among people, the government today sought refuge in the ancient Indian systems of alternative medicine, asking people to try ayurveda and Unani to protect themselves from flu-like diseases.
Revoke ban on book: CPI
New Delhi, August 20
Expelled BJP leader Jaswant Singh today found support from unexpected quarters, with the CPI demanding the withdrawal of the ban imposed on his book by the Gujarat government.
Punjab, Haryana kids anaemic, undernourished
Chandigarh, August 20
For Punjab and Haryana - the lands of plenty - it is nothing short of shame that over 80 per cent of infants in these states are anaemic, every second child is stunted and every third child is undernourished.
BJP expels Jaswant
August 20, 2009
Consensus eludes CJs on All-India Judicial Service
August 19, 2009
PM warns of fresh strikes by Pak groups
August 18, 2009
PM for war on judicial backlog
August 17, 2009
PM's resolve for growth with social justice
August 16, 2009
President focuses on swine flu, drought
August 15, 2009
Cabinet's bitter dose for Azad over H1N1
August 14, 2009
H1N1 claims five more
August 13, 2009
Water, power woes deepen
August 12, 2009
Three more deaths as govt sketches strategy
August 11, 2009