Tehsildar seeks records signed by Gharuan patwari
Kharar, November 18
Acting on the orders of Deputy Commissioner Mohali Prabhjot Singh Mand, Kharar Tehsildar Rajesh Dhiman today sought the records signed by Gharuan patwari Nirbhai Singh during the past two months.
Inter-house competition
Patiala, November 18
An inter-house competition was held at Veer Haqiqat Rai Model Senior Secondary School here today.
94th death anniversary of martyr observed
Patiala, November 18
The Kartar Singh Sarabha Welfare Society, Baba Banda Singh Bahadur Engineering College, Fatehgarh Sahib, commemorated the 94th death anniversary of martyr Kartar Singh Sarabha on the college campus.
'Promote modernisation of Indian languages'
Patiala, November 18
The Northern Regional Language Centre (RLC), Patiala, held a two-day workshop, which concluded here today. The future vision of RLCs in which language experts, linguists and principals of RLCs from all over India participated.
Teacher awarded
Patiala, November 18
Human Resources Development Minister Kapil Sibel has honoured Kuldeep Kaur Dhanjoon of KV-1, Patiala, with KVS Incentive Award at New Delhi. This was given to her for her distinguished services and devotion to duty in the field of the education.
Him Milan organised
Kalka, November 18
The Himachal Kalyan Sabha, Kalka, celebrated its eighth annual function, Him Milan 2009, on Sunday. Satwinder Rana, general secretary of the State Congress and former MLA, lit up the traditional lamp.


Ex-protector of emigrants gets 2-year jail term
Chandigarh, November 18
The CBI special court today sentenced former protector of emigrants (PoE) KL Gandhi to two years' imprisonment in a graft case.
Airtel told to cough up Rs 32,000 as relief
Chandigarh, November 18
The District Consumer Disputes and Redressal Forum has directed Bharti Airtel and The Radius, Sector 8, to pay Rs 32,000 to three complainants for causing harassment along with Rs 5,000 as litigation charges.
Boy granted bail in MMS case
Chandigarh, November 18
A local court today granted anticipatory bail to the boy booked by the Chandigarh police for allegedly making an obscene MMS of a schoolgirl.


Thieves break into garment shop, decamp with cash
Chandigarh, November 18
Thieves broke into a garment shop and decamped with cash and other articles in Sector 22. In another incident a house was burgled in Sector 23.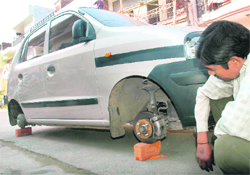 Tyres of two cars stolen
Chandigarh, November 18
Tyres of two cars were stolen in Sector 41 here last night. Pawan Kumar said his Hyundai Santro Xing car (CH 04 J 2135) was parked in front of his residence.




A man looks at a car after its tyres were stolen in Sector 41 of Chandigarh. Tribune photo: Manoj Mahajan
Motorcyclist killed in accident
Zirakpur, November 18
A motorcyclist was killed after being hit by an unknown vehicle on the Chandigarh-Ambala highway near Singhpura village in Zirakpur late this night. The deceased was identified as Sandeep Doda, a resident of Gulmohar City, Zirakpur.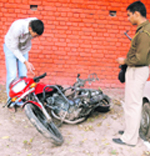 Woman sets motorcycle on fire
Chandigarh, November 18
An unidentified woman today reportedly set afire a motorcycle near Vatika School, Sector 19, here, this afternoon.





The burnt motorcycle at the police station in Sector 19, Chandigarh, on Wednesday. Tribune photo: Manoj Mahajan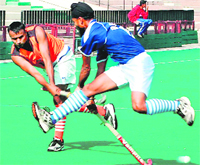 IOC trounce Indian Navy
Chandigarh, November 18
Indian Oil Corporation (IOC) thrashed Indian Navy 6-1 in the 46th Jindal Steel Nehru Senior Hockey Championship being held at the Hockey Stadium, Sector 42, here today.



A match in progress at the Hockey Stadium, Sector 42, Chandigarh, on Wednesday. Tribune photo: Manoj Mahajan
St Soldier's school claim top positions
Chandigarh, November 18
St Soldier's International School, Sector 28, hogged the limelight by winning first two positions in the 400 m race for girls on opening day of the Inter-School Tournament (U-16) here today.
Hindu Sabha School lift cup
Mohali, November 18
Hindu Sabha School, Amritsar, lifted the PCA Boost Cricket Cup 2008-09 by defeating Shivalik Model Public School at the PCA Cricket Stadium here today.
Kanwalpreet beat Raghav in tennis
Chandigarh, November 18
Kanwalpreet of Ambala Lawn Tennis Academy defeated Raghav Talwar of Chandigarh Lawn Tennis Association 7-6 (4), 6-3 in the boys singles quarterfinal of the AITA Talent Tennis Series being played at the ALTA courts in Ambala today
Women's pro golf in city from Dec 7
Chandigarh, November 18
Top professional women golfers from all over the country will converge on the greens of Chandigarh and Panchkula in the first fortnight of December, when the Women's Golf Association of India brings the third and fourth leg of the Women's Professional Golf Tour to the tricity.
Rupinder emerges badminton champ
Mohali, November 18
Rupinder Singh of Shivalik Public School bagged the first position in the U-16 (boys) category by defeating Arun George of TOC H Public School, Ernakulam, in final of the 18th CBSE National Badminton Championship, which concluded here today.
DAV, EFSO clinch titles
Chandigarh, November 18
DAV Public School-8 "A" and Eco Friendly Sports Organisation (EFSO) annexed the cadet boys and cadet girls team titles in the 22nd Chandigarh State Table Tennis Championship being held at the Table Tennis Hall, Sector 23, yesterday. EFSO blanked players of Table Tennis Club 3-0 in the final of cadet girls team championship. Bhavya gave EFSO 1-0 lead after beating Khayati 11-6, 11-5, 11-2. Somana beat Shubhangi 11-2,11-5, 11-1 in the second singles and Bhavya and Somana defeated Khayati and Shubhangi 11-0, 11-4, 11-1 to wrap up the title. DAV-8 "A" claimed the cadet boys team title at the expense of Coaching Centre, Sector 23, whom they outplayed in the final 3-1.
Gymnastics meet from Dec 4
Chandigarh, November 18
The three-day Punjab State Artistic Gymnastics Championships (senior, junior and sub-junior) will be held at Goniana Mandi, Bathinda, from December 4. PS Virk, secretary, Punjab Gymnastics Association, said the junior group would include boys in the U-17 category and girls in the below-15 category.