'Touchscreen' for info about Delhi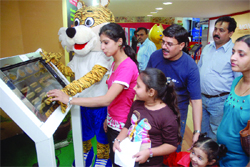 New Delhi, November 18
The Delhi Tourism and Transportation Development Corporation (DTTDC) has developed a touchscreen to get information about the national Capital. The screen is on display at Delhi Pavilion in the India International Trade Fair.


A touchscreen is demonstrated at the Delhi Pavilion during the IITF-2009 in New Delhi on Wednesday. Tribune photo: Manas Ranjan Bhui
Nursery Admissions
Erring schools issued notices
New Delhi, November 18
The Directorate of Education (DOE) is following a hardline on nursery admissions. It has come down strongly on those schools which are violating its orders. Notices have been sent to erring schools to make them toe the line.
After rain, temperature dips in NCR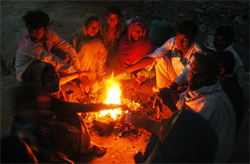 New Delhi, November 18
A day after the national Capital witnessed heavy showers, the temperature here dipped today. The Met department has ruled out any further possibility of rain in coming days.




WINTER WARMTH: A group of migrant labourers sits around a bonfire in Gurgaon on Wednesday. Tribune photo: Sayeed Ahmed
CAT awards pension to widow of DTC employee
New Delhi, November 18
The Central Administrative Tribunal (CAT) today gave relief to a widow by granting her family pension after noting that she was pursuing the matter relentlessly with the Delhi Transport Corporation (DTC) after her husband died in 2005.
Anoushka case: Order on bail plea today
New Delhi, November 18
A Delhi court today reserved its order on the bail application moved by the accused Junaid Ahmed Khan in the Anoushka Shankar extortion case for November 19.
Andhra cops get Ghandy's custody
New Delhi, November 18
A Delhi court today allowed the plea of Andhra Pradesh police to take custody of naxal leader Kobad Ghandy in connection with a case registered against him in Karimnagar district in 2008, rejecting his plea that he could not be forced to join probe.
Metro to reach Gt Noida
Noida, November 18
The NCR Planning Board has given green signal to the Delhi Metro Rail Corporation for extending the route till Greater Noida. The NCR Board has preferred Metro rail over Mono rail.
Probe into gas leak in Noida MNC ordered
Noida, November 18
The district magistrate, Gautam Budh Nagar, Deepak Agarwal has ordered a probe into the gas leak in the multi-national electronic company, Samsung in Noida Phase-II.
Traders warned against polybags
New Delhi, November 18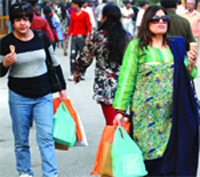 Businessmen at the trade fair continue to use plastic bags though inspection teams were deployed today in the fair after a meeting of ITPO and government environment officials yesterday decided to take strict action against anyone found violating the ban on polythene bags.




Women carry plastic bags at the India International Trade Fair-2009 in New Delhi. Tribune photo: Manas Ranjan Bhui
BYPL cuts losses, awarded
New Delhi, November 18
The BSES Yamuna Power Ltd (BYPL) has been awarded with the India Power Awards-2009 for reduction in AT & C (aggregate of technical and commercial) losses.
Biker crushed in Gt Noida
Greater Noida, November 18
An unidentified vehicle knocked down and crushed a biker at Pari Chowk early on Tuesday. The driver of the errant vehicle fled away. Nobody bothered to help him or take him to a hospital.
Man held for killing wife's 'paramour'
New Delhi, November 18
A man, who allegedly murdered his wife's 'paramour' by running his car over him in the national Capital, was arrested today, police said.
30 fresh dengue cases
New Delhi, November 18
With 30 fresh cases of dengue reported today, the total number of patients suffering from the vector-borne disease in the national Capital has become 913.