Rail overbridge thrown open despite major flaws
Ludhiana, November 18
Ignoring serious technical shortcomings in the Rs 60-crore Lakkar Bridge, mayor Hakam Singh Giaspura inaugurated the railway overbridge here today with Ludhiana Improvement Trust chairman Ashok Juneja present on the occasion.
Media bashing does it
Operation Demolition moves on
Ludhiana, November 18
Irked over media bashing for suspending the demolition drive for two days, the MC today restarted the campaign and did not even spare politicians.
Central pollution board officials in city
To take samples from Budda Nullah, treatment plants
Ludhiana, November 18
A team of the Central Pollution Control Board (CPCB), along with Punjab Pollution Control Board officials, today took samples from various stretches of Budda Nullah. Led by a senior officer from the CPCB, AK Sinha, the team is expected to take samples from sewerage treatment plants (STPs) and 17 dyeing industrial units, which were accused of polluting the nullah.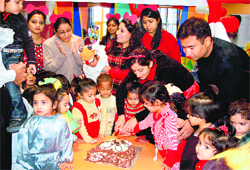 Mickey Mouse turns 70
Ludhiana, November 18
Mickey Mouse was everywhere today … walls, cake, tattoos, bouncy or candies ... and why not, it has been the all-time favourite cartoon character of children the world over and it was his 70th birthday today.


Teachers and students celebrate Mickey Mouse's birthday at Mother's Pride in Ludhiana on Wednesday. Photo: Inderjeet Verma
IT department cautions against bogus websites
Ludhiana, November 18
Some unscrupulous elements are soliciting details related to credit and ATM cards on the Internet in the name of crediting the pending income tax refund.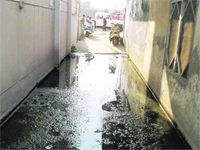 Waterlogged street a bane of residents
Doraha, November 18
The Doraha municipal committee has virtually abandoned the idea of dealing with a waterlogged street adjoining Mangat Dental Clinic here.




Water accumulated in one of the streets in Doraha. A Tribune photograph
At The Crossroads
Recollection of days past
What happens when a person refuses to reconcile himself with his old age? Not that he has yet to realise his dreams of earlier times. It is, in reality, something that had been abandoned long ago.
City Concerns
Lake along Sutlej river better option
The Sidhwan canal does not appear to be suitable for recreational activities like boating. The bridges are too low for boats to go under them and the canal is not flowing with water throughout the year.
Gurpurb celebrated at college
Doraha, November 18
The Parkash Utsav of Guru Nanak Dev was celebrated with fervour and enthusiasm in Dr Ishwar Singh memorial hall by the principal, managing committee, staff and students of Guru Nanak National College.
Farmers given tips on vinegar making
Ludhiana, November 18
The directorate of extension education in collaboration with the department of microbiology organised a two-day training programme on preparing vinegar from sugarcane and other fruit juices for farmers and farmwomen of the state.
People discover the power within
Participants walk on fire, break concrete tiles
Ludhiana, November 18
Over 50 persons participated in 'Discover the power within', a one-day management development programme organised by the Ludhiana Management Association (LMA) here yesterday.
Bank, teaching jobs preferred over govt service
Mandi Ahmedgarh, November 18
Bank service and teaching have emerged as most desired occupations among the educated youth, mainly girls.
Cycle industry seeks upgradation of technology
Says capable of beating China in production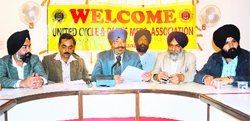 Ludhiana, November 18
The cycle industry in this part of the region has claimed that it was capable of beating China in bicycle production if provided the latest infrastructure and technology.

Members of the United Cycle and Parts Manufacturers' Association at a press conference in Ludhiana on Wednesday. A Tribune photograph
Drug peddler held with 2 kg opium
Jagraon, November 18
The police today a drug peddler and seized 2 kg opium from his possession.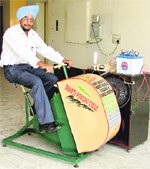 Delhi Trade Fair
Power generating cycle a big draw
Ludhiana, November 18
An exercising cycle that can produce power has become an huge attraction at the ongoing International Trade Fair in Delhi these days. The cycle, developed by a city-based small scale industrialist, has received over 100 enquires. The mechanical energy produced during a workout on the cycle is converted into electrical energy through magnetic coils.

Gurwant Singh with his cycle. A Tribune photograph
Tips given on skincare
Ludhiana, November 18
Winters have approached and taking care of skin has become a difficult task. Skin expert from Italy Kasia Janecko today gave useful tips and suggestions on skincare during the 'Skin Care Fest' organised by the Grace Beauty Clinic here today.
Declare cancer notifiable disease: NGO
Ludhiana, November 18
Having carried out a mass movement on cancer awareness following the increasing incidence of cancer in Punjab, the Cancer Council of India (CCI), an NGO, has approached the department of health and family welfare to declare cancer a "notifiable disease" in the state.
CPI, CPM seek public support against price rise
Ludhiana, November 18
A joint jatha of the Communist Party of India and the Communist Party of India (Marxist) marched through several towns and villages, including Humbran, Bhoonder, Sidhwan Bet, Jagraon, Samrala, Machhiwara, Sidhupur, Harian, Koom Kalan, Kohara and Sahnewal, today to mobilise people against price rise.
'Spectrum-09' ends on a high note
Mandi Gobindgarh, November 18
The three-day annual prize distribution function of Gobindgarh Public School, 'Spectrum-2009', concluded on Monday evening in the school hall with the senior students presenting a dazzling performance of classical and popular dances and orchestral music. They also enacted an English play, 'Sodhi's Are Going Abroad' as well as a Punjabi play, 'Ethnic vs Western,' in which models contrasted Indian and western styles of dress.
Teachers' Training Course
J&K board cancels exams again
Students, parents left in lurch
Mandi Ahmedgarh, November 18
Cancellation of two exams for the elementary teachers' training course being conducted by the J&K Board of School Education, which were taken after four months of the schedule, have once again upset the parents of thousands of students from this part of Malwa.
Teachers' training
Doraha, November 18
Students and teachers of the Doraha College of Education recently underwent a week's training teaching skills at about 14 schools of the area.
Skits, dance mark annual day
Mandi Gobindgarh, November 18
Manas Public School, Parbhatpuri Nagar, Mandi Gobindgarh, celebrated its annual day today.


Gang of vehicle thieves busted; two held
Ludhiana, November 18
With the arrest of two persons, identified as Raman Kumar and Arvinder Singh, both residents of Ludhiana, the police claims to have busted a gang of vehicles thieves.
Man dies on same day as father, brother
Khanna, November 18
In a tragic incident, a family of Khanna has lost three male family members within a span of three years.
Drug peddler held with 2 kg opium
Jagraon, November 18
The police today a drug peddler and seized 2 kg opium from his possession.
Ultrasound centre sealed
Ludhiana, November 18
The health authorities today sealed the ultrasound scan centre of Suman Hospital, Model Town, here today.


1,200 to take part in Women Games
Ludhiana, November 18
As many as 1,200 sportswomen will be participating in Women Games being organised by the sports department, Punjab, from November 23 to 26 here.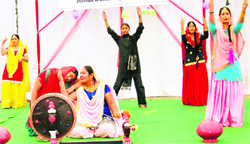 200 students felicitated
Mandi Ahmedgarh, November 18
More than 200 students were felicitated at the annual prize distribution function organised at Guru Nanak Kanya Mahavidyalya here on Tuesday.


Girls perform at Guru Nanak Kanya Mahavidyalya on Tuesday. Photo by the writer