PUNJAB
HARYANA
JAMMU & KASHMIR
HIMACHAL
REGIONAL BRIEFS
NATION
OPINIONS
LETTERS
BUSINESS
SPORTS
WORLD
Friday, December 25, 2009, Chandigarh, India
Updated at 3:00 am (IST)

Crisis deepens in Andhra
65 MLAs quit; protesters damage 57 buses
Hyderabad, December 24
The Congress government in Andhra Pradesh hurtled towards fresh political crisis today with a majority of ministers from Telangana region deciding to quit in the wake of the Centre's move to put the statehood issue on the backburner.


11 MPs quit; claim assurance from Sonia

Nation page: Prez rule in AP?

Editorial: Andhra still in crisis
CAST YOUR VOTE
Has the level of security improved a year after the 26/11 terrorist attack?

EDUCATION
JOBS & CAREERS
HEALTH & FITNESS
SCIENCE & TECHNOLOGY
REAL ESTATE
SPORTS
Political uncertainty revisits J'khand
Political uncertainty has gripped Jharkhand once again following a fractured mandate in the just concluded Assembly elections. As no political party or alliance is in a position to form the government, they are exploring the possibilities of a suitable or workable alliance to stake the claim for government formation. But it does not seem to be an easy exercise and it may take time for the opponents till the other day to come together.


Nation page: Soren hopes to be third time lucky
Finally, special kids too have Right to Education
New Delhi, December 24
Four months after it was enacted, the ambitious Right to Education Act (RTE) 2009, which guarantees free and compulsory education to children between six and 14 years, is ready for an amendment to address the concerns of differently-abled students and minorities.
Chautala shielded Rathore, says Ruchika's father


Panchkula, December 24
Breaking his long, painful silence, Subhash Chander Girhotra, father of Ruchika —who committed suicide after being allegedly molested by a top cop SPS Rathore — today alleged that the then Chief Minister OP Chautala had shielded the accused and even other successive governments did nothing to bring him to justice. Subhash Chander Girhotra

Nation page: Sexual harassment guides still on paper

Sports page: Sports not 'healthy' for girls?
Advt
NDA 60 Glorious Years
1857 The First Challenge
E - Revolution 2005:
A Two-day IT conclave
Assembly Elections - 2005
Turbans
Chandigarh is 50
125 Years of The Tribune
India: The Tasks Ahead
India at Sixty
A Tribune Supplement
EARLIER FEATURES
On Sundays
On Saturdays
Vindictive side of ex-DGP
Chandigarh, December 24
Former Haryana DGP SPS Rathore, convicted for molesting a 14-year-old budding tennis player Ruchika, was in the habit of browbeating all those who stood up for the poor girl. From the media to complainants, from the victim to her family, all had the bitter taste of his power.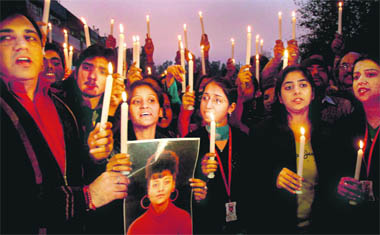 JUSTICE FOR RUCHIKA: Panchkula residents take out a candlelight procession in memory of Ruchika Girhotra on Thursday. Tribune photo: Manoj Mahajan
How her world came apart bit by bit...
Chandigarh, December 24
The sillhouette of a girl against the light peeping in through the classroom windows, sitting on the wooden bench with her head buried in her arms on the desk, sobbing painfully in the last row — that was Ruchika Girhotra's last memory for me.
Centre dithers on Telangana
December 24, 2009
Govt: Copenhagen accord doesn't affect sovereignty
December 23, 2009
Telangana: All set for decision, PM assures MPs
December 22, 2009
Pawar: Climate change to blame for price rise
December 21, 2009
After the heat, a face-saver
December 20, 2009
PM: Future talks should be based on Kyoto Protocol
December 19, 2009
Glimmer of hope as talks resume
December 18, 2009
Consulate told to explain missing Headley papers
December 17, 2009
Jagan revolts, leaves Cong red-faced in LS
December 16, 2009
Shopian women had drowned: CBI
December 15, 2009