PUNJAB
HARYANA
JAMMU & KASHMIR
HIMACHAL
REGIONAL BRIEFS
NATION
OPINIONS
LETTERS
BUSINESS
SPORTS
WORLD
Monday, December 28, 2009, Chandigarh, India
Updated at 3:00 am (IST)

Headley not to be extradited: FBI
Says the terror suspect, if guilty, might have to undergo 300-yr term
New Delhi, December 27
The FBI has politely turned down India's request for extradition of terror suspect David Headley to this country on the ground he will have to first undergo a sentence which could be imposed on him in the US for the offences committed if convicted.
CAST YOUR VOTE
Has the level of security improved a year after the 26/11 terrorist attack?

EDUCATION
JOBS & CAREERS
HEALTH & FITNESS
SCIENCE & TECHNOLOGY
REAL ESTATE
SPORTS
Pitch plays villain at Kotla, match abandoned
Dangerous wicket, says Lanka, refuses to play on; edgy fans protest; DDCA in the dock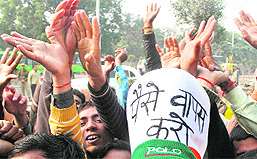 New Delhi, December 27
It is not often that an international cricket match is abandoned because of the 'dangerous' pitch.

IT'S NOT CRICKET: Angry cricket fans raise slogans against the DDCA outside Ferozeshah Kotla Stadium in New Delhi on Sunday. Tribune photo: Manas Ranjan Bhui

Girhotra: Rathore's bail should be cancelled
To press for the addition of Section 306 of the IPC (abetment to suicide) in the case
Chandigarh, December 27
Subhash Chander Girhotra today demanded the immediate arrest of SPS Rathore, the former Haryana DGP who has been convicted of having molested his school-going daughter Ruchika.
Lawyer defends Rathore, ex-CBI man indicts him
Advt
NDA 60 Glorious Years
1857 The First Challenge
E - Revolution 2005:
A Two-day IT conclave
Assembly Elections - 2005
Turbans
Chandigarh is 50
125 Years of The Tribune
India: The Tasks Ahead
India at Sixty
A Tribune Supplement
EARLIER FEATURES
On Sundays
On Saturdays
Tharoor tweets again, this time on visa policy
New Delhi, December 27
Stoking another potential row, Minister of State for External Affairs Shashi Tharoor has questioned the tightening of Indian visa rules in the backdrop of the David Headley case and wryly said that 26/11 killers had no visas.
Don't quit, Pranab to Telangana MPs
New Delhi, December 27
Finance Minister Pranab Mukherjee today reportedly promised "some good news" on Telangana and asked his party ministers from that region in Andhra Pradesh to withdraw their resignations, but they were not in an immediate mood to relent.
A Tribune Exclusive
Punjab's Billionaire Babus — II
Not just boring lists of property transactions
Chandigarh, December 27
Property details furnished in returns by IAS officers are not merely a plain boring list of sale and purchase of various properties.


A Tribune Exclusive
Alcohol good for heart? Not really
New Delhi, December 27
Who says moderate drinking of alcohol helps the heart? The first ever study conducted in India, not yet published, now claims that there is no evidence to suggest the firmly held popular belief that a drink or two protects the heart.
AP Guv ND Tiwari resigns
December 27, 2009

Ruchika case needs to be reviewed: Moily
December 26, 2009

Crisis deepens in Andhra
December 25, 2009

Centre dithers on Telangana
December 24, 2009
Govt: Copenhagen accord doesn't affect sovereignty
December 23, 2009
Telangana: All set for decision, PM assures MPs
December 22, 2009
Pawar: Climate change to blame for price rise
December 21, 2009
After the heat, a face-saver
December 20, 2009
PM: Future talks should be based on Kyoto Protocol
December 19, 2009
Glimmer of hope as talks resume
December 18, 2009
Consulate told to explain missing Headley papers
December 17, 2009