PUNJAB
HARYANA
JAMMU & KASHMIR
HIMACHAL
REGIONAL BRIEFS
NATION
OPINIONS
LETTERS
BUSINESS
SPORTS
WORLD
Saturday, January 2, 2010, Chandigarh, India
Updated at 3:00 am (IST)

Rathore gets interim relief
Allowed bail till Jan 7 if he's arrested


Panchkula, January 1
Tainted former Haryana top cop SPS Rathore today got interim relief from a court here that allowed him bail till January 7 if he is arrested for the two fresh cases registered against him in connection with the Ruchika molestation episode.


CBI to take over cases
Row over Ruchika's 'stepmother' resurfaces
Panchkula, Janauary 1
The controversy over Veena, the alleged stepmother of Ruchika, once again surfaced in the Panchkula court today when Abha Rathore, counsel and wife of former DGP SPS Rathore, claimed that Subhash Girhotra had got married to Veena in 1991.
CAST YOUR VOTE
Should the Ruchika Girhotra molestation case be re-opened?

EDUCATION
JOBS & CAREERS
HEALTH & FITNESS
SCIENCE & TECHNOLOGY
REAL ESTATE
SPORTS
Fallout of Ruchika case
Trial in sexual offences within 2 months
New Delhi, January 1
Taking a stern step, which seems to be a fallout of the Ruchika molestation and suicide case, the Union government has carried out crucial amendments to the Criminal Procedure Code (CrPC) that will enable speedy trials in all sexual offences, including rape.
India, Pak exchange lists of N-plants
New Delhi, January 1
Despite the chill in bilateral ties, India and Pakistan continued with the tradition of exchanging lists of nuclear installations on the New Year day. But in another development, India took strong exception to the reported remarks of the so-called chief minister of Gilgit-Baltistan in which he said Gilgit-Baltistan had become the 'fifth province' of Pakistan and henceforth had no connection to Kashmir.
Nepal Army to decorate Gen Deepak Kapoor
Kathmandu, January 1
Indian Army chief Gen Deepak Kapoor will be visiting the Himalayan republic this month to be decorated with the honorary title of general of the Nepal Army. Gen Kapoor, who assumed office in 2007 and kicked up a controversy last month by opposing the induction of Nepal's former Maoist guerrillas into the Nepal Army, will resume the tradition of Indian army chiefs visiting Nepal to receive the honour after four years.
Advt
NDA 60 Glorious Years
1857 The First Challenge
E - Revolution 2005:
A Two-day IT conclave
Assembly Elections - 2005
Turbans
Chandigarh is 50
125 Years of The Tribune
India: The Tasks Ahead
India at Sixty
A Tribune Supplement
EARLIER FEATURES
On Sundays
On Saturdays
Who benefits out of Delhi Games?
New Delhi, January 1
The 2,500-year-old city of Delhi is going through a makeover. The Ridge, the Yamuna, and much else is being transformed in the run-up to the Commonwealth Games in 2010. The avowed aim is to make Delhi a "world-class" city. Says Amita Baviskar, a sociologist, who has studied the changing urbanisation patterns of Delhi, "World class is a meaningless term. Delhi's own character makes it unique, its history and connection with two ecological features the Ridge and the Yamuna make it distinctive."


Some relief likely on chill front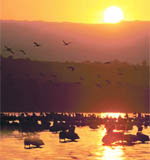 New Delhi, January 1
There is some good news on the weather front on the first day of 2010. The Indian Meteorological Department today said cold wave conditions, which have been prevailing over plains of northwest India, including Punjab, Haryana and Chandigarh, in the past one week are likely to abate from January 3.
CBI gets sanction to prosecute Sajjan
January 1, 2010

Rathore faces SIT probe
December 31, 2009
Ruchika case to be re-probed
December 30, 2009
Tharoor 'tweet' earns rebuff from Krishna
December 29, 2009
Headley not to be extradited: FBI
December 28, 2009
AP Guv ND Tiwari resigns
December 27, 2009
Ruchika case needs to be reviewed: Moily
December 26, 2009
Crisis deepens in Andhra
December 25, 2009
Centre dithers on Telangana
December 24, 2009
Govt: Copenhagen accord doesn't affect sovereignty
December 23, 2009