Children in pherans walk on a Srinagar street as the temperature fell following a heavy snowfall on Sunday. Photo: Amin War
Panun Kashmir to observe 'Holocaust Day'
Jammu, January 4
The Panun Kashmir today endorsed the decision of the Kashmiri Pandit organisations to observe January 19 as "Holocaust Day".
Substantive promotion only after acquittal in trial: HC
Jammu, January 4
Justice J. P. Singh of the J&K High Court today dismissed a writ petition filed by Raghubir Singh Bal, holding the rank of Commandant,CRPF, on an ad hoc basis, seeking promotion as Additional Deputy Inspector-General of Police, Central Reserve Police Force, along with consequential benefits, maintaining that since the enforceable rights of petitioner are not offended, interference by court is unwarranted.
Governor greets people on Gurpurab
Jammu, January 4
Governor NN Vohra has greeted people on the auspicious occasion of the birth anniversary of Guru Gobind Singh.
India should help Pak fight terror: Mufti
Srinagar, January 4
Former Chief Minister Mufti Mohammad Sayeed has hailed the peace initiative between India and Pakistan and described the move launched by leading media houses of the two countries as a much needed shot in the arm of the forces of sanity.
BSF foils another infiltration bid
Jammu, January 4
A day after the Pakistani Rangers denied having any role in abetting infiltration, the BSF late last night foiled another infiltration bid.
Pak militants run terror operations in valley
Srinagar, January 4
Separatists may term militancy as an "indigenous struggle" but it is becoming clear that it is militants from Pakistan active in the valley who are at the forefront of terrorism, while local militants, whose number is going down , have largely been reduced to playing foot soldiers.
Kashmira Vaahini launched
Jammu, January 4
Kashmira Vaahini was launched today to create political awareness among women for achieving homeland in Kashmir.
Daily wagers submit memorandum to Governor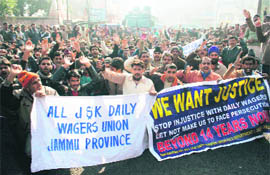 Jammu, January 4
Daily wagers of the Power Development Department (PDD), who have been on an indefinite strike for the past 43 days, today demonstrated in front of Raj Bhawan and sought the Governor's intervention for the fulfilment of their demand for regularisation of services.


Daily wage PDD employees hold a rally in Jammu on Monday. Photo: Inderjeet Singh

Protests against power cuts
Srinagar, January 4
Protests were held against erratic power supply and unscheduled cuts at various district headquarters and other places across the Kashmir valley today. The police had to use force to disperse the demonstrators at various places, reports reaching here said.
Lecturer commits suicide
Jammu, January 4
A contractual lecturer with the statistics' department of University of Jammu committed suicide by setting himself ablaze at his house in Muthi Domana late last night.
Employees' action panel starts campaign
Jammu, January 4
To ensure complete success in observing a one-day token strike on January 12, the Employees Joint Action Committee (EJAC) today launched an intensive campaign throughout the state.
Matador falls into Chenab, 2 killed
Udhampur, January 4
Two persons were killed while 14 others were injured when a matador they were travelling in from Reasi to Narloo fell into the Chenab near Thanpal village today. The injured were admitted to hospital.
Students back from tour
Jammu, January 4
As many as 32 children from far-off border areas of the Surankot sector returned from an educational tour today.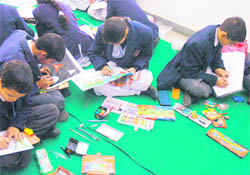 March by traffic cops
Srinagar, January 4
As part of the ongoing road traffic safety week, the traffic police today organised a road march with the participation of school children to create awareness about traffic rules. The traffic police is observing the traffic safety week with a theme "Life is Safe, if Driving is Safe", which began here last Friday.
A painting competition held in connection with Traffic Week in Jammu on Monday. Tribune photo:
Anand Sharma