Students perform during the annual sports day at Heritage School in Jammu on Saturday. Photo: Inderjeet Singh
Soz recalls Gandhiji's core values
Jammu, January 30
The Congress paid rich tributes to the Father of the Nation on his martyrdom day by organising functions throughout the state today. The main function was organised at the PCC headquarters that was presided over by party chief Saifuddin Soz and attended by senior functionaries of the PCC, DCC, frontal organisations, block presidents, representatives of different wings of the party from different parts of the state, besides ministers, legislators and councillors.
NC has failed to carry forward peace agenda: Mufti
Jammu, January 30
Former Chief Minister and PDP patron Mufti Mohammed Sayeed today regretted that the NC-led coalition regime had failed miserably to carry forward the political and economic agenda for restoring sustainable peace in the region.
Guru Ravi Dass was a social reformer: Tara Chand
Jammu, January 30
Deputy Chief Minister Tara Chand today called upon people to follow the teachings of saints, sages and Sufis as they preached love, amity and communal harmony. Tara Chand was addressing a function here today in connection with the 633rd birth anniversary of Guru Ravi Dass.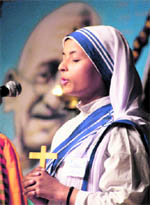 A girl offers prayers to pay tributes to Mahatma Gandhi at a function at the Abhinav Theatre in Jammu on Saturday. Photo: Inderjeet Singh
Book on Prophet Mohammed released
Srinagar, January 30
The State Academy of Art, Culture and Languages has come out with a Ladakhi publication on the life and teachings of Prophet Mohammed, a spokesman for the academy said in Jammu today. "This is a rare book on the life of the Prophet. I am sure people would appreciate our efforts," secretary of the cultural academy Zafar Iqbal Manhas said. It was for the first time that a book had been brought out in the Ladakhi language on the life of the Prophet, he added.
Women panel to open branches
Jammu, January 30
Chairperson of the State Commission for Women Shamima Firdous today announced that the commission would soon open its branches at the district level so that women could file complaints on their doorsteps.
Prof Hamidi meets Governor
Jammu, January 30
Prof Hamidi Kashmiri, famous writer and former Vice-Chancellor of Kashmir University, met Governor NN Vohra at Raj Bhavan here today. The Governor had requested Hamidi to visit Raj Bhavan. Hamidi was honoured with the Padma Shri Award recently for his outstanding contribution in the field of literature and education. The Governor congratulated Hamidi for his valuable contribution spread over five decades to the enrichment of Urdu and Kashmiri languages and literature.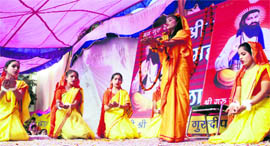 Children perform during a function on the occasion of Guru Ravi Dass Jayanti in Jammu on Saturday. Photo: Inderjeet Singh
Traffic on highway resumes
Srinagar, January 30
Traffic on the Srinagar-Jammu National Highway resumed today after it was blocked due to heavy accumulation of snow between Qazigund and Banihal yesterday. However, no vehicles were allowed to ply on the highway from Srinagar and Jammu today. In case weather improved traffic would be allowed from the two capital cities tomorrow morning, officials here said.
Bharti appointed JJSF adviser
Jammu, January 30
The Jammu Joint Students' Federation (JJSF) today appointed Hith Bharti as the state adviser of the federation on the recommendation of its president Pusvinder Singh Manhas. According to a statement issued here, Hith Bharti was appointed in a meeting held under the leadership of chairman of the JJSF Kuldeep Singh Chib.
Army builds community hall at hospital
Jammu, January 30
The General Officer Commanding, Ace of Spade Division, inaugurated and dedicated a community hall, Nagrik Sarai, to the local populace of Rajouri district today. The sarai has been constructed at the district hospital.
Anti-Leprosy Day observed
Jammu, January 30
The Youth Movement for Peace observed Anti-Leprosy Day by organising an awareness programme at Makwal village, 24 km from Jammu, today. According to a statement issued here, chairman of the Youth Movement for Peace Vikas Sharma provided basic information about leprosy and its causes, symptoms, prevention and cure.
Two found dead
Jammu, January 30
A labourer and a girl were found dead in Jhajjer Kotli and the RS Pura area of the Jammu region today. Official sources said Raj Kumar of Bagfoo village in Jhajjer Kotli was found dead at his home, while 18-year-old Anju Bala, alias Neetu, allegedly consumed some toxic substance at her house in Jindlarh village in RS Pura.