3 held for jewellery shop robbery at Bazpur
Nainital, February 7
Claiming to have worked out the case pertaining to the robbery in a jewellery shop at Bazpur on January 11, the Udham Singh Nagar police has arrested three persons while efforts are on to nab another four, including the leader of the gang.
Tent House Owner's Murder
Effigies of state govt, police burnt
Nainital, February 7
Sparked by the murder of a local tent house owner, public anger over growing instances of crime poured out in Nainital today. Activists of several organisations, including the Youth Congress and the Shiv Sena burnt effigies of the state government and the police for their failure to check the spate of crime in the area this morning. The activists raised slogans against the government.
Multi-speciality medical camp held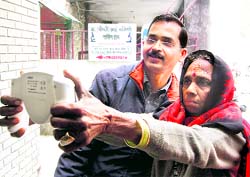 Dehradun February 7
The Doon Diabetic Association today organised a multi-speciality medical camp here at Dr Rukmini Nursing Home, Rajpur Road. The health camp began at 10:30 am and continued till 3 pm. A large number of patients attended the camp. Free checkups were held at the camp where around 50 doctors examined the patients. "As expected, out of 50 patients, 10 per cent were diagnosed with diabetes."


A woman being examined at a health camp organised by the Doon Diabetic Association in Dehradun on Sunday. A Tribune photograph
Eight robbers arrested
Dehradun, February 7
The police caught eight robbers within 12 hours of the incident, in which they have looted a charcoal godown after holding its guard hostage and firing at a villager last night here at Tiparpur in Shaspur.
Prepare plans to overcome shortcomings in schemes, says DM
Nainital, February 7
District Magistrate Shailesh Bagauli has asked the officials executing the Atal Adarsh Gram Yojana to prepare proper plans for the scheme so that the shortcomings in the various villages can be taken care of.
CM leaves for Mauritius

Dehradun, February 7
Chief Minister Ramesh Pokhriyal Nishank today left for a three-day tour to Mauritius. During his visit the Chief Minister would be focusing on strengthening cultural and business ties by inviting investment from non resident Indians (NRIs) to the state. The Chief Minister would also be participating in the national festival that would take place at the Ganga Talab.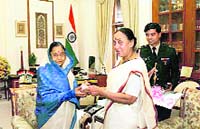 Alva invites Prez to Kumbh
Dehradun, February 7
Uttarakhand Governor Margaret Alva today called on President Partibha Devi Singh Patil in New Delhi and invited her to visit Haridwar during the ongoing Maha Kumbh. Alva presented 'Ganga jal' and a shawl woven by artisans of the state to the President.

Uttarakhand Governor Margaret Alva (right) with President Partibha Devi Singh Patil in New Delhi on Sunday.
ADB plans sanitation projects in hills
Dehradun, February 7
After initiating sewerage improvement and changing old pipelines in some major towns, the focus of the Asian Development Bank (ADB) would now be on taking similar projects in the hills.
SSP pulls up staff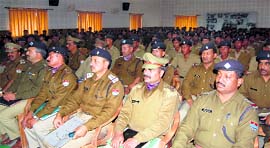 Dehradun, February 7
Dehradun Senior Superintendent of Police (SSP) Abhinav Kumar expressed resentment over the long-pending cases in all police stations of the district during a monthly meeting here today. The SSP listened to the problems of the police personnel and discussed those with them.


Police officials of Dehradun district attend a meeting in Dehradun on Sunday. A Tribune photograph
'Eco Maha Shivratri' observed
Dehradun, February 7
"Eco Maha Shivratri", an occasion to present the fusion of religion and environment was organised by the Mission True Biologist at the Gandhi Park here today. Many workers of the mission attended the event at the park.
300 examined for dental, eye ailments
Dehradun, February 7
At a free dental and eye checkup camp was held today at the Basic Education School in Prem Nangar. A total of 550 persons turned up for dental and eye checkups. The camp was organised by the Lions Club, Dehradun, Umang, and doctors from Amritsar Clinic, Dehradun, examined a total of 300 patients, of these 30 patients would be undergoing cataract operation at on February 14 at Amritsar Eye clinic.
Councillor reaches out to residents
Dehradun, February 7
Navin Bisht, Municipal Councillor from Vasant Vihar block, held a camp to facilitate the procurement of ration cards and identity cards and their renewal at his residence here today. The day-long camp began from 11 am and a large number of residents below poverty line from Indiar Nagar, Vasant Vihar, Pandit Wari and nearby areas come to file their applications.