Surrender Policy
CM decries Azad's remarks
Jammu, February 10
Chief Minister Omar Abduallah today snubbed Union Health Minister and former CM Ghulam Nabi Azad on his views on a surrender policy for militants proposed by the state government.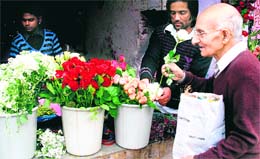 On Rose Day, an octogenarian picks up his choice in Jammu on Wednesday. Photo: Inderjeet Singh
Three pilgrims die on way to Vaishno Devi
Jammu, February 10
Three pilgrims, including two from Maharashtra, have died on their way to the holy cave shrine of Mata Vaishno Devi.
Corruption behind ration shortage: PDP
Jammu, February 10
The PDP today alleged that the shortage of ration in government depots was the result of rampant corruption and nepotism in the state government.
Omar unhurt as car catches fire
Jammu, February 10
Chief Minister Omar Abdullah had a miraculous escape after an alert driver of his official vehicle detected that the vehicle's engine was on fire near Samba on the Pathankot-Jammu National Highway late last night.
Bail for journalist
Jammu, February 10
A local court today granted bail to a journalist of a national Hindi daily, who was arrested by the Gandhi Nagar police yesterday while allegedly demanding a bribe of Rs 10 lakh from a businessman of Bishnah,the police said.
BJP protests against price rise
Jammu, February 10
On the directions of the party high command, the state unit of the BJP held a protest rally against price rise here yesterday.
Stress on household water security
Jammu, February 10
Emphasising the need for rooftop rainwater harvesting and protection of springs in the state, delegates from various departments today arrived at a unanimous consensus to think about household water security and conjunctive use of surface, ground and rain water.
'Promote collaborative research projects'
Jammu, February 10
Governor NN Vohra has called for promotion of collaborative research projects by all Universities of Jammu and Kashmir for optimal utilisation of infrastructure and resources, with the larger objective of achieving speedy economic development of the state. He was addressing the valedictory session of the three-day 5th JK Science Congress at Jammu University here this evening.
College students continue strike
Jammu, February 10
The ongoing strike of college students in support of their demand for a concession in the syllabus of the three-year degree course entered its sixth day today.
Salaries of displaced employees sought
Jammu, February 10
The recently formed group of Kashmiri Pandit organisations has urged the government to ensure the release of salaries to displaced employees urgently so that they do not face any problem in celebrating Shivratri.
MC destroys 20 kg of stale food
Jammu, February 10
The health wing of the Jammu Municipal Corporation today destroyed about 20 kg of stale food as part of the anti-adulteration drive.
Woman injured
Jammu, February 10
A woman was found lying with severe injuries at her house in Channi Himmat area late last night, the police said. The police said the injured, identified as Chhavi, was rushed to the Government Medical College and Hospital (GMCH). Her condition was stated to be critical.