Delhi Diary
Right to Education Act runs foul of minorities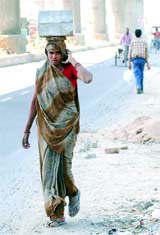 WHAT WOMEN'S DAY?: A woman carries bricks at a construction site on the eve of International Women's Day. The day provides an opportunity to communities to recognise and celebrate local women's achievements and the contribution they make to their area. Tribune photo: Mukesh Aggarwal
The Right of Children to Free and Compulsory Education Act 2009 has brought many minority bodies on one platform to oppose certain aspects of the law.
At a discussion held recently under the aegis of the Delhi Commission for Minorities, many educationists from different minority groups claimed that the Act would affect the independence of their institutions. The Act will come into force on April 1, 2010.
They said the Act in its present form would force them to choose 75 per cent members of the management committee from parents of the students. Also, a certain number of poor students would have to be given admission and provided with free education. Both the conditions would affect them adversely, they said. It is not clear, though, whether they have been able to make their voices heard where it matters the most.
Some politician!
A lot of political action is being witnessed these days in East Delhi areas which have a large population of migrants, and one can see many hoardings and posters glorifying the leadership credentials of aspiring politicians of all hues. But one such publicity drive has ended up embarrassing its organisers.
Akhil Bhartiya Tyagi Bhumihar Sanstha, which claims to represent these two castes, and its president, S Tyagi, had prominently displayed a banner near Laxmi Nagar Metro station announcing that he has also been a former Lok Sabha contestant (Purv Lok Sabha pratyashee). It was as if that fighting an election for Tyagi was as good as wining it.
Local residents say that Tyagi was a butt of jokes for weeks before good sense prevailed on him recently and he made the necessary omission.
Hockey challenged sports fans
When our otherwise cricket-crazy sports fans landed up at the Major Dhyan Chand National Stadium to watch the crucial World Cup match between India and Australia, they were at a loss for words literally when it came to cheering the Indian team and jeering the rivals.
Many young spectators shouted "chauka-chhakka" every time an Indian player got hold of the ball. Some boys wearing "Cricket India" T-shirts shouted "lovely shot" often and had no qualms about giving Aussie players names like Ricky Ponting as they made noises. And then there were some who managed a nap in the middle of this event!
Security blues for Delhiites
So tight, vast and cumbersome is the security ring around hockey players participating in the World Cup and at the National Stadium where the matches are played that Delhiites are wondering how their lives would be when the Commonwealth Games kick off in October on a much larger scale.
The National Stadium has been turned into a fortress, with close to 19,000 police officials deployed within a two-mile radius. Armed guards, snipers, sniffer dogs and commandos patrol the area and you will curse yourself if you happen to drive through the almost-jammed roads leading to the venue.
The Commonwealth Games will have 17 competition venues spread across Delhi and one wonders how the Delhi government and the organizers would manage to minimize the hardship to the residents.
Guard pays for police goof
Akhilesh Sharma, a security guard with a private firm in Ghaziabad, is a much disturbed man these days. The Delhi police directory has mistakenly listed his mobile number under the name of one VS Chandel, who happens to be an SHO of a busy police station.
Sharma says he receives numerous calls every day from people ranging from liquor contractors to hotel owners to, at times, police officers. Most of them hang up on him after being told of his identity as if he was the one to blame. His agony increased manifold recently when a body was recovered from the SHO's area.
Many journalists cursed him, thinking it was the SHO's trick to hoodwink them. Now he wants to gift his SIM to Chandel to buy peace.
(Contributed by Syed Ali Ahmed, Kumar Rakesh, Akhila Singh, Himani Chandel, Sandeep Yadav)