M A I N N E W S
Former Nepal PM Koirala dead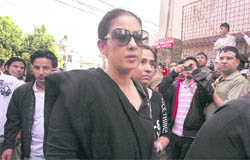 Bollywood actress Manisha Koirala, niece of Girija Prasad Koirala, arrives to pay her last respects to him in Kathmandu on Saturday. — Reuters
Kathmandu, March 20
Nepal's five-time Prime Minister Girija Prasad Koirala, who had been unwell for several months, died here today after multi-organ failure. The 87-year-old Koirala died at 12.10 pm (local time) at his daughter and deputy premier Sujata Koirala's residence, Nepali Congress vice-president Gopal Man Shrestha said. Koirala was the president of the Nepali Congress, which is a key constituent of the ruling CPN-UML-led coalition. He was discharged from Marty Ganga Lal Heart Centre here on Wednesday after showing signs of improvement and had been staying at Sujata's residence since then.
Earlier, Chiranjivi Nepal, an adviser to Sujata, said the veteran politician had slipped into coma following a bout of diarrhoea.
Koirala had a low hemoglobin level and was suffering from bronchitis problem. He died of multi-organ failure, party sources said. — PTI
The man who abolished royal regime
Bishnu Budhathoki writes from Kathmandu
Veteran democratic leader of Nepali politics, Nepali Congress president and former Prime Minister Girija Prasad Koirala passed away on Saturday. He had led the peaceful April Uprising in 2006 and abolished the 239-year-old authoritarian royal regime in the Himalayan nation.
An 86-year-old Koirala, a five-time prime minister, had been battling poor health for a long time. He was being attended by a team of five doctors at the private residence of his daughter Sujata Koirala at Mandikhatar here, where he died at 12.10 pm.
At a time when the peace and constitution drafting process was in limbo due to surfaced differences among major political parties, Koirala's sudden death has given another serious blow on it.
Immediately, after the state-run and private electronic media broadcast the news about his death, an emergency cabinet meeting of the government decided to declare Sunday, which is a working day in the country, a public holiday and keep the national flag at half-mast for three days. It has also decided to keep condolence books in Nepali diplomatic missions abroad for two days.
Minister for Information and Communication Shankar Pokharel informed that the last rites would be performed on Sunday with state honours, as Koirala was the former head of the states.
Koirala had served as an acting head of the state in 2008, immediately after the Constituent Assembly declared the country a federal democratic republic state on May 28 by abolishing the 239-year old royal regime.