PUNJAB
HARYANA
JAMMU & KASHMIR
HIMACHAL
REGIONAL BRIEFS
NATION
OPINIONS
LETTERS
BUSINESS
SPORTS
WORLD
Sunday, March 21, 2010, Chandigarh, India
Updated at 3:00 am (IST)

India will get access to Headley: US
New Delhi, March 20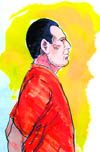 Two days after David Coleman Headley secured a plea bargain, the USA today said India would get access to the terror suspect to investigate his role in the 26/11 Mumbai terror attack, but almost ruled out his extradition to India. "Yes", said US Assistant Secretary of State for South Asia Robert Blake when asked by reporters on the sidelines of a function whether Indian investigators would be provided access to interrogate Headley.
Justice dept's head rings up Chidambaram
CAST YOUR VOTE
Do you support the Women Reservation Bill?

EDUCATION
JOBS & CAREERS
HEALTH & FITNESS
SCIENCE & TECHNOLOGY
REAL ESTATE
SPORTS
Railways bloomer: Ad shows Delhi in Pak
New Delhi, March 20
It seems to be the season of advertisement gaffes in ministries. After the Ministry of Women and Child Development goofed up by showing a picture of a former top military officer of Pakistan in one of its advertisements, it's now the turn of the Rail Ministry to commit a blunder.
3 die in NFL plant blast
Nangal, March 20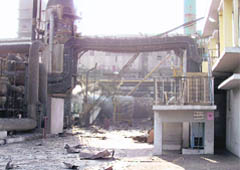 Three persons were killed and one sustained serious burns in a blast at the ammonia plant of National Fertilisers Limited here today. The Ropar Deputy Commissioner has ordered a magisterial inquiry into the accident.
The blast site at National Fertilizers Limited plant in Nangal
on Saturday. A Tribune photograph
Ropar admn not informed in time
Court ticks off Sajjan for delaying trial
New Delhi, March 20
A Delhi court today committed the trial of two anti-Sikh riot cases against Sajjan Kumar to a Special CBI court after refusing to consider an application filed by the Congress leader, which, as per the court, was seemingly done to delay the trial. Also, the court told Kumar to appear before the Special judge on March 27.
UNION BUDGET 2010-11
RAILWAY BUDGET
2010-11
NDA 60 Glorious Years
1857 The First Challenge
E - Revolution 2005:
A Two-day IT conclave
Assembly Elections - 2005
Turbans
Chandigarh is 50
125 Years of The Tribune
India: The Tasks Ahead
India at Sixty
A Tribune Supplement
EARLIER FEATURES
On Sundays
On Saturdays
Scrap Article 370: BJP, RSS
Madhopur (Pathankot), March 20
A state-level function was organised here today to pay homage to Dr Shyama Prasad Mookherjee. Addressing a mammoth gathering, former deputy Prime Minister LK Advani said: "Dr Mookherjee laid down his life for the unity and integrity of the nation. He not only opposed the permit system introduced for the people from outside J&K, but also defied the permit restriction by entering the state on May 11, 1953. The system itself was instrumental in creating differences among the citizens of independent India."
Former Nepal PM Koirala dead
Kathmandu, March 20


Nepal's five-time Prime Minister Girija Prasad Koirala, who had been unwell for several months, died here today after multi-organ failure. The 87-year-old Koirala died at 12.10 pm (local time) at his daughter and deputy premier Sujata Koirala's residence, Nepali Congress vice-president Gopal Man Shrestha said.
Girija Prasad Koirala (1923-2010)
Death for hijackers
March 20, 2010
Godowns full but Pawar rules out wheat export
March 19, 2010
Foreign education Bill hits roadblock
March 18, 2010
Manpreet treads cautiously
March 17, 2010
Govt forced to defer N-liability bill
March 16, 2010
Two bomb planters arrested
March 15, 2010
India, not Kashmir, Lashkar's true goal
March 14, 2010
From Moscow to Delhi: 16 N-reactors
March 13, 2010
Govt buys peace with Yadavs
March 12, 2010
RS fever grips Lok Sabha
March 11, 2010