Police Foundation Day: State to have Anti-Terrorist Squad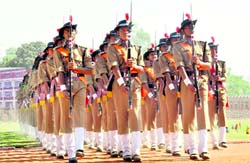 Dehradun, April 4
An Anti-terrorist Squad will be set up in Uttarakhand. This was announced by Chief Minister Ramesh Pokhriyal Nishank at the third State Police Foundation Day in the Police Lines here today. He also announced the recruitment of 1,500 constables in the state police and setting up of new reporting police chowkis and police stations on the way to the Chaardham Yatra and other places.

Policemen holding arms at a parade held on the Foundation Day celebrations of the Uttarakhand police at the Police Lines in Dehradun on Sunday


Citizens for Green Doon launches anti-plastic drive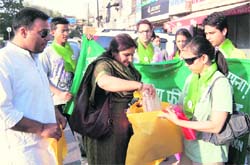 Dehradun, April 4
The Citizens for Green Doon (CFGD) launched a mass contact campaign to sensitise shopkeepers of Dehradun against using plastic bags at the Clock Tower here today. Under the slogan of "Our Dream - a plastic pollution-free Doon", members of the group gathered and visited the shops in the New Market.

An anti-polythene campaign launched by the Citizens for Green Doon in Dehradun on Sunday. A Tribune photograph

Attack on Scribes
Roadways employees go on strike
Dehradun, April 4
The services of Roadways buses in the state were paralysed following a strike by employees of the Roadways Department against the suspension of the foreman in connection with Friday's incident of a fight with scribes.
State stops power supply to 32 UP villages
Nainital, April 4
Power supply to 32 villages in Uttar Pradesh from Uttarakhand has been stopped forcing residents of these villages to go without electricity as mercury continues to climb up.
Ex-servicemen protest supply of open bottles
Nainital, April 4
Ex-servicemen in Bageshwar district held a protest yesterday against the decision of the government to supply them with opened bottles of liquor for their quota from the canteen.
One dies, four hurt as vehicle falls into gorge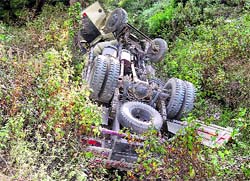 Mussoorie, April 4
One person was killed and four others were injured when a loaded Tata 709 vehicle fell into a deep gorge on the Mussoorie-Kempty road near Indira Colony here today. According to the Fire Department, after getting information, they rushed to the site and found that a loaded truck belonging to Sudhir Kumar had fallen into a 150-feet-deep gorge.

A truck that fell into a gorge on the Mussoorie-Kempty Road on Sunday.

Elephant, mahout killed in road accident
Nainital, April 4
In a late night accident on the Rudrapur-Rampur road on Uttar Pradesh border, an elephant and its mahout were killed when they were hit from behind by a bus. The elephant was being used to advertise the Baisakhi Mela being held in Rudrapur. In fact, two elephants, along with their mahouts Rafiq and Abdul Hafiz, residents of Bijnor, had been put on the job of advertising the event.
IMA to introduce NABH accreditation for blood banks
Dehradun, April 4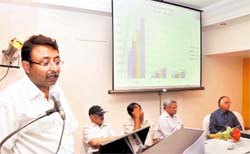 To provide safe blood to masses and further improve it's services, the Indian Medical Association (IMA) Blood Bank will be soon going for an NABH accreditation. This was stated in his address by Dr Alok Ahuja, coordinator of the programme, at the ongoing Rakt-Parvah, 2010, conference on "Total Quality Management in Transfusion Services" aided by Sir Ratan Tata Trust.

Dr Alok Ahuja at a seminar on quality management in transfusion services titled "Rakt Parvah" in Dehradun on Sunday. A Tribune photograph

Suspension of Hydel Projects
UKD members stage dharna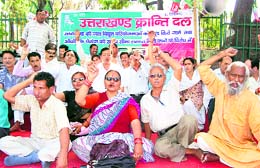 Dehradun, April 4
The Uttarakhand Kranti Dal (UKD) has been holding vigorous media conferences, protests and dharna against the Centre's decision to scrap the two big hydro-electric projects of state, Pala Maneri and Bhario Ghati of 480 MW and 381 MW, respectively, and putting third the biggest one among these, Lohari Nag Pala of 600 MW too in abeyance.

Members of the Uttarakhand Kranti Dal stage a dharna at the Gandhi Park in Dehradun on Sunday. A Tribune photograph

Residents protest merger of Palika land into Van Panchayat
Nainital, April 4
Angry residents of the Thakurdwara locality in Bageshwar have launched a protest movement against the merger of their Nagar Palika land into the Van Panchayat. Claiming that the land in the possession of farmers of the locality for over 125 years has been merged into Bhatraula Van Panchayat, a large number of women went on to gherao the office of the Sub Divisional Magistrate (SDM).
Painting exhibition to promote art, culture held

Dehradun, April 4
To promote art and culture in Uttarakhand, Ridhima Kochhar, young enterprising business graduate, organised a four-day-long painting exhibition at Hotel Madhuban here today. With the influx of emerging contemporary artists in the country, this exhibition-cum-sale has been an earnest endeavour to be a part of that expansion in providing a platform for exposition.

Collective Spaces 2010, a painting exhibition in Dehradun on Sunday. A Tribune photograph