PUNJAB
HARYANA
JAMMU & KASHMIR
HIMACHAL
REGIONAL BRIEFS
NATION
OPINIONS
LETTERS
BUSINESS
SPORTS
WORLD
Monday, April 5, 2010, Chandigarh, India
Updated at 3:00 am (IST)

Naxal Menace
The buck stops with you, PC tells Buddha
Rules out military action against Maoists
Kolkata, April 4
Putting the onus on the West Bengal government to deal effectively with the Naxal menace, Home Minister P Chidambaram today said he has told Chief Minister Buddhadeb Bhattacharjee that the bucks stops with him and that talks can be held with the Left-wing extremists if they abjure violence.


Maoists love NREGA in Jharkhand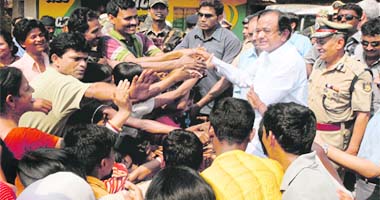 Union Home Minister P Chidambaram shakes hands with villagers during a visit to Lalgarh, some 130 km west of Kolkata, on Sunday. — AFP
CAST YOUR VOTE
Should politicians be allowed to withdraw so-called vendetta cases against MLAs?

EDUCATION
JOBS & CAREERS
HEALTH & FITNESS
SCIENCE & TECHNOLOGY
REAL ESTATE
SPORTS
10 killed as Naxals blow up police bus
Landmine blast; SOG convoy targeted; 3 injured
Bhubaneswar, April 4
Maoist guerrillas on Sunday detonated a landmine and blew up a police bus, killing at least 10 security personnel and injuring three others in Orissa's Koraput district, an official said.
Big cities on Naxal radar
New Delhi, April 4
Taking a leaf out of the methods adopted by Pakistan-based terrorists, the Maoists have plans to attack major cities and are trying to enhance their strike capabilities in the urban areas.
India satisfied with progress of talks on Headley


New Delhi, April 4
India today said it was yet to get access to Lashkar-e-Toiba (LeT) operative David Headley, but was satisfied with the progress of talks with the USA over access to the terror suspect linked to the Mumbai terror attack.


Opinions page: 'Soft state' tag sticks
UNION BUDGET 2010-11
RAILWAY BUDGET
2010-11
NDA 60 Glorious Years
1857 The First Challenge
E - Revolution 2005:
A Two-day IT conclave
Assembly Elections - 2005
Turbans
Chandigarh is 50
125 Years of The Tribune
India: The Tasks Ahead
India at Sixty
A Tribune Supplement
EARLIER FEATURES
On Sundays
On Saturdays
No more statues in Parliament
New Delhi, April 4
A decision has been taken to disallow further installation of statues and portraits in Parliament to maintain its neat and spacious look.
US meddling in Afghan affairs, says Karzai


Washington, April 4
Hitting out at his western backers for the second time in three days, President Hamid Karzai has accused the US of interfering in Afghanistan's internal affairs and said the Taliban insurgency would become a legitimate resistance movement if the meddling doesn't stop.


Was forced into phone 'nikah': Shoaib
'I was cheated….Sania knows everything'; wedding on April 15 in Hyderabad
Hyderabad, April 4
Breaking his silence over the controversy surrounding his alleged first marriage, Pakistani cricketer Shoaib Malik today said he was cheated and forced into a telephonic 'nikah' with Hyderabadi girl Ayesha Siddiqui eight years ago.
Case of cheating registered against Shoaib
20 held for burning Sania's posters
Does Azharuddin know the truth?

The truth is that I have, to this day, not met the girl in the photograph. Ayesha Siddiqui was the girl who introduced herself as Maha Apa (or elder sister) of Ayesha. When I realised the fraud, it was the worst moment of my life
— Shoaib Malik
Eye on youth, Punjab keeps 58 as retirement age
April 4, 2010
Terror on tracks: Ultras target Kashmir rail link
April 3, 2010
Education becomes a basic right
April 2, 2010
For now, retire at 58 in Punjab
April 1, 2010
5 get death for 'honour killing'
March 31, 2010
India, US agree on N-reprocessing
March 30, 2010
Modi grilling a big step forward, says SIT chief
March 29, 2010

Modi grilled by SIT
March 28, 2010

Advani incited sevaks to demolish Babri: Witness
March 27, 2010
SC okays 4 pc job quota for Muslims in AP
March 26, 2010