Human Rights Violations
Govt committed to zero tolerance: Omar
Srinagar, April 20
Chief Minister Omar Abdullah has reiterated his government's determination to protect and uphold human rights under all circumstances, saying no compromise would be made on the issue of human rights violations in the state. He was addressing a public meeting in the Langate area of Kupwara district in north Kashmir after inaugurating two vital bridges over the Mawar nullah today. He said the government was committed to zero tolerance against human rights violations.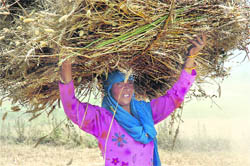 A woman after harvesting the wheat crop takes the yield for thrashing in Bela Jamana village on the international border in Jammu. Tribune photo: Anand Sharma
Speed up work of Panchayat House, says Sagar
Jammu, April 20
Minister for Rural Development and Panchayats Ali Mohammad Sagar held a high-level meeting today to review the pace of work regarding the Panchayat House being constructed at the Rail Head Complex.
BSP leaders raise banner of revolt
Jammu, April 20
After its worst defeat in the last state Assembly electionsS, leaders of the Bahujan Samaj Party (BSP) have ultimately raised a banner of revolt against state coordinator Narinder Kashyap, who, according to a majority of workers, was solely responsible for the party's debacle.

Mehbooba for cut in troops
Srinagar, April 20
PDP president Mehbooba Mufti has blamed the government for "insensible handling" of the situation which had led to further dithering the atmosphere in the state, and demanded reducing security forces and making them accountable by revoking Armed Forces Special Powers Act (AFSPA).
Police asked to make probe details public
Jammu, April 20
The Jammu Private Schools and Elementary Teachers' Training Institutes Association (Progressive) has asked the police to make public the outcome of its investigation into the paper leak cases of Class XII board papers.
Protest against varsity authorities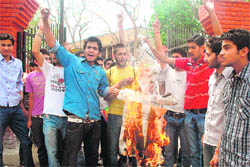 Jammu, April 20
Activists of the Jammu Joint Students Federation (JJSF) today held a protest demonstration against the university authorities for their decision of increasing fees of Ph.d and other professional courses offered by University of Jammu. The protest was held on the Canal Road, opposite Government Gandhi Memorial Science College.
Members of the Jammu Joint Students Federation hold a demonstration against Jammu University on the Canal Road opposite GGM Science College in Jammu on Tuesday. Photo: Inderjeet Singh
Deputy Heads of Nordic Missions call on Vohra
Jammu, April 20
A delegation of Deputy Heads of the Missions of Nordic countries called on the Governor, NN Vohra, at Raj Bhavan, here this evening.
3rd tunnel thrown open to Vaishno Devi pilgrims
Jammu, April 20
The third tunnel, which is airy, well lit and with very convenient headway, and which provides an excellent 'darshan' at the Shri Mata Vaishno Devi Shrine, was today thrown open to the pilgrims amidst chanting of Vedic mantras and special pooja and other religious ceremonies.
No headway in cop's murder case
Jammu, April 20
Even two weeks after the murder of a Railway Police constable,Amarjeet Singh, the Jammu police has failed to make any headway and the culprits are still untraced.
Another held for harassing girl over phone
Jammu, April 20
The Jammu police today claimed to have arrested another accused Yashpal, a resident of Tikri in Udhampur, who was avoiding his arrest for the past two days, for allegedly harassing a girl over phone for the past few days.