PUNJAB
HARYANA
JAMMU & KASHMIR
HIMACHAL
REGIONAL BRIEFS
NATION
OPINIONS
LETTERS
BUSINESS
SPORTS
WORLD
Power, water, health, education...
Mewat lacks it all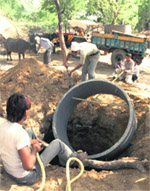 Nuh (Mewat), April 26
If a visitor happens to come to Mewat after having spent a few days in adjoining Gurgaon or any other city of the NCR, he would feel as if he has beesn pushed into a harsh world from his kingdom of dreams all of a sudden.

Residents make an underground tank to store water purchased by them during the summer months in a Mewat village. Tribune photo: Sayeed Ahmed
NCP set to expand base in state
Chandigarh, April 26 |
The NCP has decided to spread its influence in Haryana, where the party has a token presence. It had been sending its representatives to the Haryana Vidhan Sabha occasionally, but still the party lacks what is called grassroot support. Its strength in the Assembly never exceeded one at a time.
Cops may face the stick
April 23, 2010
Hooda reprimands officials, contractor
April 20, 2010
BPL families to get free power connections by June
April 16, 2010
Power utility to invest Rs 980 cr
April 9, 2010
Capital punishment unlikely to rein in khap panchayats
April 6, 2010
Licences of 351 depot holders cancelled
April 2, 2010
Khijrabad hub of illegal mining
March 30, 2010
CAG exposes irregularities
March 26, 2010
Prices of grit, sand inch up
March 23, 2010
Saplings found dumped
March 19, 2010