Mayor-MNA tussle eclipses working panel poll
Members, councillors weigh options
Dehradun, April 27
Mayor Vinod Chamoli's obstinate attitude in not acting on a letter of the MNA to hold due election of the Working Committee on May 3 has had members of the committee and councillors to grope for various possibilities in case the dilemma continues.
Workers to collect 10 lakh signatures on govt failure
Dehradun, April 27
Senior Congress leader Suryakant Dhasmana today said the Congress would send a memorandum with signatures of as many as 10 lakh people to the President against the failures of the Uttarakhand government.
Residents indulge in illegal practice for extra water
Dehradun, April 27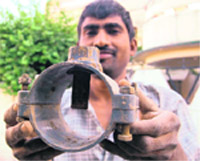 As the summer is progressing and fight for water is aggravating, many are indulging in wrong practices to get extra water at the expense of inconvenience to the rest. Installing extra water connections with the connivance of private help is a prevalent practice here, but a defaulter in Dandipur Mohalla, Ramesh Kumar Mason, went a step further in attaching a big screw in the water pipe deep down the ground and drawing gushing supply, which made four families in the neighbourhood survive with disrupted water supply for four months at a stretch.
A man shows an equipment which was used to get water illegally from the main water supply line in the Mannuganj area in Dehradun. A Ttribune photograph
Dam hurdle in Tanakpur-Bageshwar rail link: Samiti
Pitthoragarh, April 27
The Bageshwar-Tanakpur Rail Marg Sangharsh Samiti, an organisation formed by people of Bageshwar to struggle for the construction of the Tanakpur-Bageshwar rail link announced on Sunday that the smaiti would soon launch an agitation to oppose the Pancheshwar Dam, which, according to it, would pose hurdle in the rail link project.
Central scheme for pregnant women fails in remote areas
Dehradun, April 27
The Janani Suraksha Yojana (JSY), a scheme providing monetary help to poor pregnant women, continues to remain unattractive for women residing in remote areas of several districts of the state making government's goal of increasing institutional deliveries in the state difficult.
Doon Hospital's nephrology unit to close
Dehradun, April 27
Curtains will come down in May on the Doon Hospital's temporary nephrology unit with the coming up of a full-fledged nephrology unit at Deen Dyal Upadhyay Coronation Hospital.
Governor to attend Rau's last rites
Dehradun, April 27
Margaret Alva, Governor of Uttarakhand, left for Kolhapur village in Maharashtra's Wardha district, the native place of Prabha Rau, late Governor of Rajasthan, where she will attend Rau's last rites.
Ex-servicemen laud UPNAL's works
Dehradun, April 27
The Uttarakhand Purv Sainik Ardhsainik Sanyukt Sangathan held a special meeting to appreciate the activities of the UPNAL, a corporation of ex-servicemen, at Miyanwala Panchayat Ghar. Chairperson of the organisation AR Madhvanand Banduni said the UPNAL agency had given jobs to ex-servicemen in a large number under the chairmanship of Brigadier Patwal.
Survey of regularisation of land in Premnagar on
Dehradun, April 27
Dehradun District Magistrate D Senthil Pandian has confirmed that that the survey works linked to the regularisation of land in the possession of 1947 refugees in Premnagar will be done from April 25 to May 1.
Green Doon honours shopkeepers
Dehradun, April 27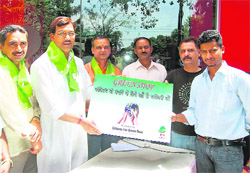 In its campaign to motivate shopkeepers not to give free plastic carry bags to customers, an NGO, Citizens For Green Doon, today held a function to felicitate three shopkeepers at Jakhan who have stopped using such carry bags. A "green certificate" was given to them by Agriculture Minister Trivender Singh Rawat.


Uttarakhand Agriculture Minister Trivender Singh Rawat honours three shopkeepers with "green certificates" at Jakhan in Dehradun on Tuesday. A Tribune photograph
Two held for youth's murder
Nainital, April 27
Working out the murder of 22-year-old Shehzad, who was found dead near the Raza Club yesterday morning, the Nainital police has arrested two youths from the town.
50-yr-old woman crushed under car
Nainital, April 27
A 50-year-old woman was crushed under a car at Kurayya village near Kitcha in Udham Singh Nagar district when a group of people, who had come to be a part of a marriage procession,was trying to flee after having an altercation with local villagers.