CM meets victims of fire incident, announces aid
Dehradun , May 3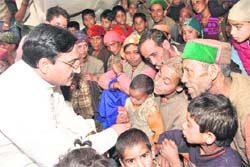 Uttarakhand Chief Minister Ramesh Pokhriyal Nishank today flew to Sidri village in Uttarkashi distict to meet the victims of the devastating fire that burnt 25 houses in the village on Saturday night. Two persons were killed and five others were injured in the inferno that engulfed the entire village. The state government had given an ex-gratia relief of Rs 1 lakh to the next of kin of those killed in the fire incident.

Chief Minister Ramesh Pokhriyal Nishank meets fire victims at Sidri village on Monday.
Nepal Bandh: Traders face Rs 3 lakh loss daily
Pitthoragarh, May 3
Indian markets of Dharchula, Jauljivi and Jhoolaghat on the Indo-Nepal border in this district remained deserted today on the third consecutive day as the Nepal Bandh called by Maoist outfits barred the Nepali citizen from enter into Indian market to collect the essentials.
Nainital MC gets into fish business
Nainital, May 3
The Nainital Municipal Committee (nagar palika) is drawing up a foolproof plan to ensure some earnings from fish being extracted from the famous Naini lake. The fish extraction being done is a part of the bio-manipulation exercise undertaken for its conservation.
Alva participates in Census
Dehradun, May 3
Governor Margaret Alva participated in the Census of India, 2011, by giving necessary information to the enumerators who visited the Raj Bhawan here today for Housing Census.
Repaired, 100-yr-old road roller back on road
Mussoorie mechanic completed repair in year
Mussoorie, May 3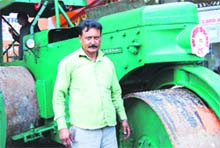 A mechanic in the city has repaired a 100-year-old road roller lying in a dormant condition with the Nagar Palika, Mussoorie.The 100-year-old road roller, a prized possession of the British era, was lying in damaged condition for the past 10 years with the Nagar Palika.



Masoom with the 100-year-old road roller in Mussoorie
Kumbh Works
Health centre row: Cong, BJP face-off resurfaces
Haridwar, May 3
It seems political parties have woken up from the shadow of the just concluded Maha Kumbh and once again agitations, dharnas, blame game, memorandums is the norm.
Akhada felicitates mela admn officials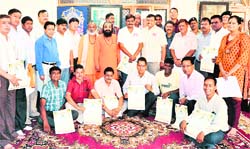 Haridwar, May 3
Acknowledging immense contribution and pivotal role of the mela administration in a peaceful conduct of the Maha Kumbh, several felicitation functions are being organised to honour the administrative personnel.


Officials of the mela administration after being honoured by Mahnirmani Akhada in Haridwar on Sunday. Tribune photo: Rameshwar Gaur

Khanduri finds fault with one rank, one pension
Elated over response during his 7-day state tour
Dehradun, May 3
A former Uttarakhand Chief Minister and senior BJP leader, Major-Gen BC Khanduri (retd), has alleged that there are many discrepancies in the proposed one-rank-one-pension scheme of the Centre and urged Prime Minister Manmohan Singh to form a committee to look into all problems and discrepancies coming in the way of the implementation of the scheme.
Urs celebrated at Sanjha Darbar
Mussoorie, May 3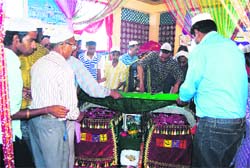 Qawwali and a singing programme was held on the occasion of annual Urs at the tomb of Baba Hajrat Khwaja Sahib at Sanjha Darbar on the Mussoorie-Kempty road.The devotees in large numbers gathered to seek blessings by offering chadar at the tomb of the Baba Hajrat Khwaja.


Devotees offer chadar at the Sanjha Darbar on the occasion of the annual Urs at the tomb of Baba Hajrat Khwaja Sahib near Mussoorie.

Two get life term for murder
Dehradun, May 3
The District Court today pronounced life sentence and Rs 10,000 each as fine for two accused who had shot dead two persons eight years ago.
Training programme for foresters begins
Dehradun, May 3
Forest Research Institute's five-day training programme for Haryana Forest Department foresters started here today.
INTUC observes 64th foundation day
Dehradun, May 3
The Indian National Trade Union Congress (INTUC), Uttarakhand, today observed its 64th foundation day.
U'khand, UP cops in for major tie-up
Dehradun, May 3
The police departments of Uttarakhand and Uttar Pradesh are in for a major coordination to zero in on chain snatchers and auto thieves.
Women Cong chief lashes out at BJP
Haridwar, May 3
Uttarakhand state Women Congress chief Sarojini Kaintura in strong words has lashed at the Bharatiya Janata Party(BJP)-led government for its total failure in all aspects of governance.
At Almora, Cong MC chief in spot for delay in construction works
Nainital, May 3
The Municipal Council of Almora is witnessing an all-out war among councillors of two major parties, the Congress and the BJP, with the latter resorting to an agitation against MC Chairperson Shobha Joshi.
Buffalo dies in lightning
Mussoorie, May 3
A lightning caused major damage at Ranogi village in Jaunpur block, Tehri Garhwal district, about 50 km from here, yesterday. A buffalo was killed while the place where it struck was torn into two halves. The belongings of Bhagani Devi were also damaged.