PUNJAB
HARYANA
JAMMU & KASHMIR
HIMACHAL
REGIONAL BRIEFS
NATION
OPINIONS
LETTERS
BUSINESS
SPORTS
WORLD
Wheat procurement crosses 6 lakh metric tonnes in Jind dist
Jind, May 3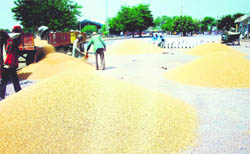 Various agencies have procured about 6, 08,342 metric tonnes of wheat in the district so far, including 2,08,805 metric tonnes by the state, the highest by HAFED.
Wheat lying in the open at the Jind grain market. Photo: Manoj Dhaka
Power Generation
State eyes biodegradable waste
Chandigarh, May 3
Power-starved Haryana is alwasys on the lookout for electricity from any source, big or small. Now it envisages generation of power from biodegradable waste, such as kitchen waste, garden waste, horticulture waste and animal fallings.
IOC enters polymer business
Panipat, May 3
With the dispatching of first consignment of polymer produced at Panipat refinery's naphtha cracker unit, the state-run Indian Oil Corporation has entered the polymer business, which till now was dominated by Reliance Industries. IOC chairman BM Bansal, who flagged off the first consignment, said naphtha cracker unit would be using 2.4 million tonnes of naphtha every year, which would be supplied from IOC's Gujarat, Mathura and Panipat refineries.
Students make four-wheeler with used parts
Sirsa, May 3
Exhibiting innovative skills, students of the final year of mechanical trade of Jan Nayak Chaudhary Devi Lal Polytechnic here have developed four-wheeled vehicle by assembling discarded parts of different vehicles.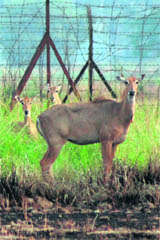 Blue bulls in a field near the NDRI campus on NH-1 in Karnal. Tribune photo: Ravi Kumar
Higher retirement age of VCs triggers row
April 30, 2010
Mewat lacks it all
April 27, 2010
Cops may face the stick
April 23, 2010
Hooda reprimands officials, contractor
April 20, 2010
BPL families to get free power connections by June
April 16, 2010
Waste dumped on highway a traffic hazard
April 13, 2010
Power utility to invest Rs 980 cr
April 9, 2010
Capital punishment unlikely to rein in khap panchayats
April 6, 2010
Licences of 351 depot holders cancelled
April 2, 2010
Khijrabad hub of illegal mining
March 30, 2010