Rs 57 cr released for docs practising in rural areas
Bathinda, May 6
The Punjab government has released Rs 57,77,94,000 to rural veterinary medical officers and rural medical officers, who are working under the Zila Parishads, as a package for a period of one year i.e. from March 2010 to February 2011.
SMS route to sensitise public to traffic rules
Bathinda, May 6
The local Shaheed Ram Singh Sahara Accident Roko Society has started creating awareness about the traffic rules among the people by way of sending SMS, besides appealing to the people by adopting other educative methods.
CDPO arrested on graft charge
Ferozepur, May 6
The lust to become rich by collecting money through illegal means has landed Balwinder Singh, Child Development and Project Officer (CDPO), Ferozepur, into the Vigilance Bureau (VB) net as he was caught taking bribe from member of the Zila Parishad, today.
Plea to celebrate Bhagat Puran Singh's birth anniversary as state environment day
Bathinda, May 6
Several environmental activists and eminent personalities have urged the state government to observe June 4, the birth anniversary of Bhagat Puran Singh of Pingalwara, Amritsar, as the Punjab Environment Day. They have also sought support from all those working to save the degrading environment.
Congmen meet vigilance squad
Abohar, May 6
The Congress has got a shot in the arm with BJP dissidents' move against the alleged malpractices in the municipal council that is ruled by the saffron party.
Moga liquor contractors unable to pay excise duty
Moga, May 6
Difference of opinion whether to run the liquor business or not between the liquor contractors of the Moga town has come to the surface over the payment of the first instalment of the excise duty after realising in the very first month that they are running into losses.
Wife of constable kidnapped from Police Lines
Ferozepur, May 6
Sonia, wife of Joginder Kumar, a constable in Punjab police, was allegedly kidnapped from the local Police Lines by three persons with the intention to kill her.
SGPC not to honour Capt with 'siropa'
Moga, May 6
Former Punjab Chief Minister Captain Amarinder Singh will reach New Delhi from Dubai on Saturday night and will then travel to Amritsar to pay obeisance at the Golden Temple and the Durgiana Mandir followed by a meeting with his party supporters and well-wishers but the SGPC has clarified that it will not honour him with a siropa, a religious ritual of the community.
Murder of clerk
CBI probe sought
Ferozepur, May 6
Rohit Vohra, district president, Youth Akali Dal (Badal), while alleging that Surinder Kapur, licence and passport clerk (LPC) at the Deputy Commissioner's (DC) office, was murdered by Vicky Sodhi, a resident of Guru Har Sahai, with a motive, has demanded a CBI inquiry into the same.
Woman, paramour held for killing husband
Sriganganagar/Abohar, May 6
Rani Kaur, who was allegedly joined by her paramour Raja and daughter Pushpa in killing her husband Gobind Ram, have been arrested, Hanumangarh SHO Sanjay Bothra said on Thursday evening.
Haryana health officer, son die in road mishap
Moga, May 6
Dr Rajinder Samotra posted as a Deputy Director in the health department of Haryana and his son Dr Boban Samotra died in a road accident near Dagru village in the Moga district, late on Wednesday night.
Cases against state LJP chief's kin
Actvists burn cops' effigies
Bathinda, May 6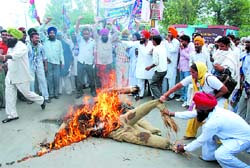 Giving vent to their ire against two SHOs of the Bathinda police, activists of the Lok Janshakti Party (LJP) burnt their effigies outside the bus stand here today.While burning the effigies and lodging their protest, the LJP activists accused the two SHOs of committing atrocities on Dalits and also of implicating the son and brother of state president of the LJP, Kiranjeet Singh Gehri, in false cases of eve-teasing and assault.

Members and activists of the Lok Janshakti Party burning effigies of two SHOs of Bathinda police on Thursday. Tribune photo: Pawan Sharma

6 hurt in separate mishaps
Bathinda, May 6
Six persons were injured in three separate road mishaps today.According to information available, a person sustained injuries when he fell down from a bus at the ITI Chowk on the Bathinda-Mansa road here while boarding a bus.