Andolankaris for cottage industry in each dist

Dehradun, May 6
Agitated members of the Uttarakhand Rajya Andolankari Manch gave vent to their anger against the casual attitude of the state government at a conference held at the District Magistrate's office here yesterday.


Sushila Dhyani, a statehood agitator, addresses a press conference in Dehradun on Thursday. A Tribune photograph

Oppn misleading people on hydro projects: BJP
Dehradun, May 7
The Uttarakhand BJP said today that the Congress was trying to rake up the issue of power projects' allotment only to divert people's attention from the Centre's apathy towards ensuring industrial package extension to the state.
State BJP to hold protest against CBI
Dehradun, May 7
As part of a nationwide protest call against the Central Bureau of Investigation (CBI), the BJP in Uttarakhand will be staging "Anti CBI politicisation day" on May 12.
Landslide on Rishikesh-Badrinath highway
Dehradun, May 7
A little over a week before the commencement of the Char Dham yatra, the Rishikesh-Badrinath highway in Uttarakhand was today cut off for over seven hours due to landslides at Totaghati area, which falls between the towns of Byasi and Deoprayag.
Phase I of Cong polls begins on May 11
Dehradun, May 7
Mukut Mithi, chief of the Uttarakhand Congress Election Authority, has announced the dates of the first phase of the organisational elections in the state. The poll process to elect booth-level party presidents and delegates will start from May 11 and if need be polling will be held on May 14.
Cong seeks CM's resignation over Kumbh corruption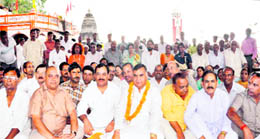 Haridwar, May 7
The Congress today held a protest at Malviya Deep in Har-Ki-Pauri, the place where the historic cabinet meeting of the state government was held taking landmark decisions on the Ganga and Maha Kumbh.


Congress leader Harak Singh Rawat, along with party workers, stages a dharna
in Haridwar on Friday. Tribune photo: Rameshwar Gaur

Birth anniversary of Tagore celebrated
Dehradun, May 7
Floral tributes were paid to Nobel laureate Rabindranath Tagore on the occasion of his 149th birth anniversary here today. Many functions were held in Dehradun to mark the occasion.
Mobile phone shop burgled
Dehradun, May 7
Mobile phones and cash worth over Rs 4 lakh were reportedly stolen from a shop by breaking locks of its shutters near Lalpur in Patel Nagar on Wednesday night.
Woman dies in fire due to short-circuit
Dehradun, May 7
A 24-year-old woman died after she was caught in a fire that broke out following a short-circuit at her residence at Sabavala in Shaspur today.
CII holds workshop
Dehradun, May 7
Confederation of Indian Industry (CII) in collaboration with Micro, Small and Medium Enterprises (MSME) organised a two-day CII MSME workshop on the role of Intellectual Property Rights (IPR) to Enhance Business of Small and Medium Enterprises (SMEs): Focus Clusters-Drugs and Pharma for MSME at Selaqui focusing attention of the industry on the role and importance of Intellectual Property.