Jalalabad girl makes a mark in education
Saloni Sidana, a resident of Jalalabad and a student of Lady Hardinge Medical College, Delhi, has been making a mark in the field of education for the past many years.
First, she made Ferozepur district proud by securing first place in the Punjab School Education Board examination of class XII in 2007. She again managed to bring laurels to this district when she got admission in Lady Hardinge Medical College, Delhi by getting 113th rank in AICBSE PMT in 2007. She became the only student of Punjab in 2007 to make it to that medical college.
Ever since she joined the medical college, she has been making her presence felt by achieving successes in the academic field. She got gold medals for scoring excellent marks in physiology and biochemistry in the first year of MBBS.
In the second year of MBBS, she delivered excellent performance again and was awarded gold medal for getting high scores in forensic medicine and microbiology.
On both occasions, Saloni, daughter of Anish Sidana, a businessman of this town, was given gold medals by RK Srivastava, Director General, Health Services, India. She has also been honoured with a gold medal and a cash prize of Rs 20,000 in 2007 for her achievements at a function organised by the Central government. The function was presided over by then union minister Kapil Sibal.
Saloni, who has done her schooling from this town, scored 96 per cent in class X and stood fourth in the All India DAV Board in class VIII. She is an avid reader and likes to listen to good music.
"I want to do super specialization in endocrinology or neurology," she said while talking to TNS. — Chander Parkash
NREGA workers show the way!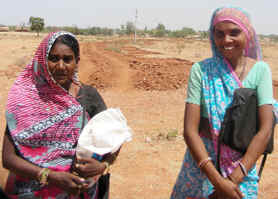 NREGA supervisors are a role model for other workers. A Tribune photograph

NREGA funds in Punjab could not be utilized even by 50 per cent owing to poor planning coupled with lack of will as well as high incidence of corruption. The administrative officers had by and large succumbed to pressure from different quarters to pay no-work allowance to the workers who had been listed but not assigned any job. Hence, the workers received half of the daily wages without doing any work.
In Abohar, the officials who did the work at a slow pace earned the wrath of the workers who formed a union and gheraoed government offices after short intervals. In most development blocks, mates (supervisors) could not be appointed during the past three years and a few who were lucky to get the letters have been running from pillar to post to get their remuneration paid.
Contrary to this, in the neighbouring areas of West Rajasthan, all District Collectors as well as the Bikaner Divisional Commissioner were found inspecting NREGS work and even used scales to measure the work done.
An IAS officer, Puran Chand Kishan, while inspecting the work going on the gravel road on Sarthuna road in Jharni village on Saturday spotted two women mates doing good work job and complimented them. Ramila Damore said she had done matriculation while Kokila Damore studied up to class VIII only. Both had completed regular training as mates. They were supervising 80 NREGA workers. Project officer RC Chotrani said these women mates who braved the scorching heat seem to be more careful and assertive about the quality of work than males. Ramila and Kokila can emerge as role models for others, he said. — Raj Sadosh