Mahila association celebrates Mother's Day with elderly
Tribune News Service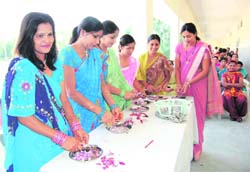 Mothers of schoolchildren prepare dishes in a school in Haridwar. Tribune photographs
Dehradun, May 9
On the occasion of the Mother's Day, the Uttaranchal Mahila Association celebrated the day with a great fervour with senior citizens at Prem Dham, an oldage home, here today.
Members of the association distributed flowers, fruits and sweets among the people at the centre.
The programme began with lighting of the lamp by chief guest Rajya Mahila Ayog president Sushila Baluni, sister Anjali and association president Sadhna Sharma.
Sadhna spoke about the importance of mothers and said God had created mother with a heart full of love, care and compassion. Her importance in life could never change. She would remain the epitome of love.
To entertain the aged at the centre, members of the association performed various activities.
Children recited beautiful poems on Mother's Day with enthralling dances.
Abandoned by families, the elderly thoroughly enjoyed the programme.
"Mothers are the epitome of love, affection and sacrifices. We are honoured and privileged to spend some time with parents who are being neglected by their own children. It's our very small initiative to spread love and smile on their faces and that gives us utmost delight," added Sadhna.
Events galore in Haridwar
Haridwar: On the occasion of the Mother's Day, several functions and programmes were held in the district acknowledging mother and her role in our life. Students held various competitions like debates, greeting card making, paintings and verses to express their love to their mothers.
A debate was organised at SM Public School titled "Status of mother in today's society", wherein speakers dwelt on varied roles of a mother in our life.
Chief guest Rashmi Vardhan, wife of mela officer Anand Vardhan, said it's due to a mother that the society got a new direction with mother having an indelible impression and impact on a child.
She said mother was called the first teacher of a child as she cared and nurtured a child wholly.
A competition was also organised for the mothers. Pushpa Sharma won the first prize while Mamta bagged the second position in the debate competition.
Several other events were also organised like vegetable chopping, musical chair, decorative items, in which mothers displayed their talent to the fullest with their children cheering them up.
Prizes were distributed by Sanjana Sharma, wife of Mela DIG Alok Sharma, who too highlighted the important role of a woman as a mother in a child's life as well as family life.
Shiv Dale School, DAV Public, DPS Ranipur, Sanskriti, Little Angels, Doon Cambridge and other schools too organised several functions to commemorate the Mother's Day.
"I made a greeting card with water colours for my mother and got my favourite Barbie doll in return," exclaimed Sanjana, a student of KG.