Govt flayed for removing contractual employees
Dehradun, May 26
The Uttarakhand Congress has criticised the state BJP government for removing contractual employees working at the class IV level in the Ayurvedic Department.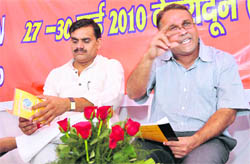 Internal security, education high on agenda at ABVP meet
Dehradun, May 26
Internal security, education and social sector will be high on agenda at the three-day National Executive Council meet of Akhil Bhartiya Vidhyarthi Parishad (ABVP), which begins in Dehradun tomorrow.
National President of the ABVP Milind Marathe addresses a press conference in Dehradun on Wednesday. A Tribune photograph

Mansarovar Yatra: Nigam to arrange Volvo buses
Pitthoragrh, May 26
After trying different vehicles to carry Kailash Mansarovar pilgrims to the base camp from New Delhi, the Kumaon Mandal Vikas Nigam (KMVN) has now finally settled for Uttarakhand Roadways buses.
Railways washes hands off thefts on trains
Nainital, May 26
Caught between the jurisdiction of the state police and the role earmarked for its own Railway Protection Force (RPF), the Indian Railways has expressed its helplessness in combating the crime that is committed against the passengers when they are in transit.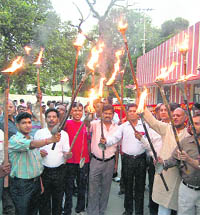 Rail men take out 'mashaal jaloos'
Dehradun, May 26
A "mashaal jaloos" was taken out by the Dehradun branch of the Northern Railway Men's Union on a call of the All-India Railway Men's Union here today. It was carried out from 7 am to 8.30 am. The demonstration was held from the union premises to Upper Railway Colony Mussoorie via Down Railway Colony to the Railway Health unit.



Railways employees protest in support of their demands in Dehradun on Wednesday. A Tribune photograph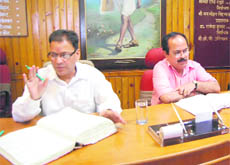 Roadways objects to Palika bus service
Mussoorie, May 26
Mussoorie Palika's dreams of running a local city bus on the roads of Mussoorie have turned sour, as the Uttarakhand Roadways Department has raised a strong objection to it.


OP Uniyal (left) participates at the Nagar Palika Board meeting in Mussoorie on Tuesday. A Tribune photograph

Bridge inaugurated in Badrinath
Dehradun, May 26
Chief Minister Ramesh Pokhriyal Nishank inaugurated a 40-m-span bridge costing Rs 1.50 lakh in Badrinath today. Accompanied by his wife, the Chief Minister reached Badrinath Dham and offered prayers in the temple.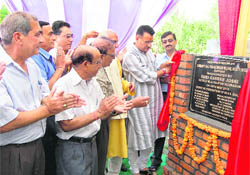 Stone of Punjabi Biradari hall laid
Dehradun, May 26
The Punjabi Biradari Welfare Society, Dehradun, laid the foundation stone of its community hall at the Rajpur Road near Mussoorrie diversion here today. The community hall is being constructed with the aim to help people have a venue for their gatherings and other functions.
Ganesh Joshi, MLA from Rajpur, lays the foundation stone of the Punjabi Biradari Welfare Society in Dehradun on Wednesday. A Tribune photograph

Place at Parade Ground only viable choice for demonstrations: Chamoli
Dehradun, May 26
People sweating in their vehicles, children baking in the sun, ambulances stranded in long jams have become a every day nuisance with public protests, dharnas and effigy burning taking place at roundabouts near and in front of the Gandhi Park on the Rajpur Road, one of the busiest roads in the city.
2 children die after severe convulsions
Dehradun, May 26
The district medical authorities are on a high alert after two boys suffering from convulsions and vomiting died at the Doon Hospital here today.
Man robbed of Rs 38,000
Dehradun, May 26
A day after the theft of a bag containing Rs 2 lakh from a car on the Rajpur Road, a man was allegedly robbed of a bag carrying over Rs 38,000 outside the main branch of the State Bank of India on the Convent Road here.