PUNJAB
HARYANA
JAMMU & KASHMIR
HIMACHAL
REGIONAL BRIEFS
NATION
OPINIONS
LETTERS
BUSINESS
SPORTS
WORLD
Every Wednesday & Saturday
HIV Patients
Women worst sufferers
Srinagar, May 28
Stigma for women suffering from HIV is manifold. Being the worst sufferers, medicos and families discriminate against them the most.
Tea with The Tribune
Ashok Gupta, IGP
Law and order is everyone's responsibility: IGP
An AK-47 bullet is still stuck in the back of his neck as a trophy of his bravery. IG Ashok Gupta, President's Medal winner, has had a humble beginning and toiled day and night to reach this high position. Son of a postman, Ashok Gupta and his five other brothers and two sisters have set an example of how to utilise whatever resources you have to excel in life.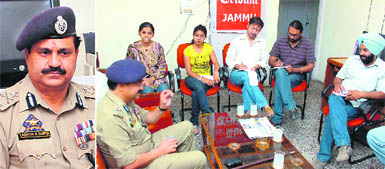 Ashok Gupta in conversation with The Tribune team in Jammu. Tribune photos: Anand Sharma
Killer roads continue to claim lives
May 26, 2010
Public parks or parched land
May 22, 2010
Unclaimed vehicles turn into scrap
May 19, 2010
No relief, hope for migrants
May 15, 2010
Highway four-laning devours trees
May 12, 2010
De-silting claims fall flat
May 8, 2010
State doesn't have much for HIV patients
May 5, 2010
NC-Cong rift widens
May 1, 2010
Epidemic fear looms large over Kandi areas
April 28, 2010
NREGA labourers feel cheated
April 24, 2010