U'khand School Education Board Class X, XII Results
Girls shine again in state board examinations
Tribune News Service
Dehradun, May 29
Once again, girls of Uttarakhand have brought laurels by scoring well in the Class X and XII Board examinations of the Uttarakhand School Education Board. Like their counterparts in the CBSE and ICSE Boards, girls have outshone boys in the high school and intermediate results 2009-10 that were declared here today.
In the high school results, 72.68 per cent girls and in the intermediate results 82.36 per cent girls, out of the total candidates appeared, have passed in the examinations. The average of the passing candidates has been increased by 3.39 per cent in the high school, and 1.30 per cent in the intermediate this year. In high school results, Alok Prakash Saxena of Vivekanand Inter College, Ranidhara Road, Almora, has topped among boys in the Uttarakhand by securing 95.60 per cent, while Archana Singh of Rajkiya Balika Inter College, Chaukhutiya, Almora, has topped among girls in the state by scoring 93.40 per cent.
The total pass percentage of the students in high school is 65.85 per cent.
In the intermediate results, there was a draw between girls and boys as Abhilekh Barthwal and Swarnima of Rajkiya Inter College, Srinagar, Pauri Garhwal, and MSKSVMIC, Kotdwar, Pauri Garhwal, respectively, have equally secured 88.60 per cent in their examination. The total pass percentage of the students in intermediate school is 74.36 per cent.
The lone student of Dehradun district who managed to secure position in the first five toppers in the state is Amit Gairola of SVMIC Dakpatthar, Dehradun. He has scored 86.60 in his intermediate examination this year.
Results of others:
High School: Avdhesh Singh Negi of SVMIC, Chinyanisaur, Uttarkashi has secured 94.60 per cent, Kiran Rawat of MGGBVMIC, Bilani, Rudraprayag scored 93.20 per cent and Abhishek Pandey of Government Intermediate College, Paithani, Pauri Garhwal scored 92.80 per cent.
Intermediate Results: Deepak Arora of RLS Chauhan SVMIC, Jasspur, Uddhamsingh Nagar, has secured 88.20 per cent, Diwakar Verma, RH Government Inter College, Tanakpur, Champawat scored 88 per cent and Ashish Bhardwaj of TRRRSVMIC, Kashipur Uddhamsingh Nagar scored 86.80 per cent.
Sanatan Dharam girls top exam
Mussoorie (OC): In the result declared of Class X and XII of Uttarakhand State Board exams Mussoorie Girls School and Sanatan Dharam Girls students excelled by securing top positions in the town. Bharti Katyar of Sanatan Dharam Inter-College secured 74.4 per cent and secured top position.
Anjali Kotyal of Mussoorie Girls got 74 pc and Priya 73.4 pc. The
Principal, Mussoorie Girls School, said more than 93 pc students had passed this year.
Nupur Sharma with 388 marks also makes city proud
Tribune News Service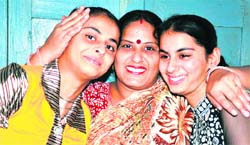 Nupur Sharma (in yellow top), with her mother and sister, rejoices after topping in her school.Tribune photos:Rameshwar Gaur
Haridwar, May 29
Rahul Rawat made Haridwar district proud by bagging the overall 10th ranking in Class X of the Uttarakhand State Board Examination results. A student of Saraswati Vidya Mandir Sector-2, BHEL, Rahul bagged a total haul of 456 numbers out of maximum 500.
Hailing from Gairsain in Chamoli, as soon as news spread of his making it to the top list, relatives, friends, neighbours and school staff began to visit Subash Nagar situated residence of Rahul to congratulate him.
"I did it and my dedication paid as I got above 90 per cent," remarked Rahul.
His sister Meera Rawat, an engineering student in the University of Petroleum, terms her brother as a sincere and diligent one who always focuses on one thing at a time which has made him a winner right from Class I.
Apart from studying, Rahul used to unwind himself by playing cricket, indulging in video games, and he is equally hard working like his idol Sachin Tendulkar. He envisions to become an engineer and has already started preparing for the coveted IIT-JEE examination.
Parents Gyan Singh Rawat, a village development officer posted in Khanpur and Kamla Rawat a homemaker both felt proud on Rahul's achievement and were of the firm belief that he would make it to the top list.
Another student who made the city proud is Nupur Sharma, who also banked on daily and systematic studying. Scoring 388, Nupur, a student of Saraswati Vidya Mandir, Mayapur, wants to pursue medical studies to fulfill her mother's dream of making it big in life.
Daughter of a Teerth Purohit Deepak Sharma, resident of Rajghat, Nupur idolises Jawaharlal Nehru and reveals that taking stress in terms of studies doesn't bode well and instead has a negative effect on one's personality.
She also attributes her success to her parents' support, teachers' guidance and the will and determination to make a name for herself so that her parents feel proud.