Give Dehradun permanent capital status: Barthwal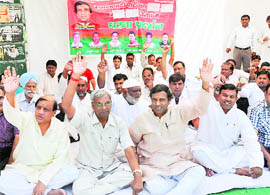 Dehradun, June 1
Dehradun should be declared the capital of Uttarakhand. Vinod Barthwal, state head of Samajwadi Party (SP), stated this while addressing members of the party here today. The party members were agitating at the Gandhi Park to protest against the shortage of electricity and water.



Samajwadi Party workers hold a protest at the Gandhi Park in Dehradun on Tuesday. A Tribune photograph

UKD activists fail to pressurise SSP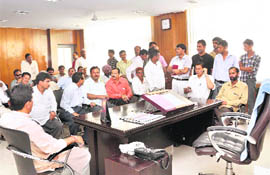 Dehradun, June 1
Teaching the Uttarakhand Kranti Dal (UKD) a lesson that the bureaucracy will not work under political pressure, feisty Senior Superintendent Police (SSP) Abhinav Kumar chided UKD activists, including the senior-most rung of leaders who had come his office to counter him for not working speedily in the matter of threatening messages sent to their central executive Rajpal Singh.
Members of a deputation of the UKD wait for the SSP in his office in Dehradun on Tuesday. A Tribune photograph

UKD workers unhappy over support to BJP
Dehradun, June 1
Saheb Singh, General Secretary, UKD, wrote an open letter to top leaders of the party criticising the party's support to the BJP and its negative impact on the party. He said top leadership in the party had taken a decision without taking the party workers in confidence. Now they had decided to wage a statewide campaign to uncover the dubious policies of some of the UKD leaders.
8 IPS officers transferred
Dehradun, June 1
The Uttarakhand government has transferred eight IPS officers today.
Women back stir for shelterless
Haridwar, June 1
The agitation led by the Hind Rashtriya Awami Hukook for providing shelter to the poor and needy is getting more and more support, specially from women, irrespective of religious and caste segments.
Bank robbers from UP held at Kempty
Mussoorie, June 1
The sleepy village of Kempty woke up to an operation undertaken by the joint team of SOG and STF police from UP when they caught two bank dacoits who were residing in Kempty after a bank dacoity committed at Muzaffarnagar one month ago.
Focus on convicting hardcore criminals in courts: Meena
Nainital, June 1
The Kumaon police will be laying special emphasis on trying to get the persons accused of heinous crimes convicted in courts. This was stated by RS Meena after taking over as the new Inspector General of Police for Kumaon division on Tuesday.
Three girls commit suicide after failing to clear exams
Nainital, June 1
Three girls in the region committed suicide after failing to clear their high school examination. Incidentally, all three chose to consume poisonous substances available at their houses.
FRI holds training programme on aroma therapy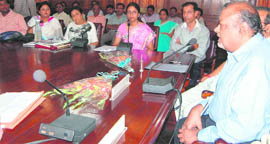 Dehradun, June 1
Furthering the cause of the country's aroma sector, the Forest Research Institute (FRI), Dehradun, has initiated a training programme for those linked to essential oils, perfumery and aroma therapy.

Sudhir jain, ex-president of the Fragrance and Flavour Association of India, addresses participants at a training programme on aroma therapy at the FRI in Dehradun on Monday. A Tribune photograph

Aroma therapists honoured
Dehradun, June 1
It was for the first time, senior aroma therapist, Dr Mangala Chavan, MBBS, MS from Zorastrian College of Mumbai, was felicitated. Dr Dipti, Director, Rakasana Health Institute, was also present.
Four killed in road accident
Nainital, June 1
Four persons were killed in a late night road accident near Haldwani yesterday. The accident occurred when some people were returning after participating in a marriage celebration in
1 dies as tractor-trailer falls into gorge
Mussoorie, June 1
One person was killed and three were injured when a tractor-trailer loaded with construction material overturned and fell into a deep gorge near the Yamuna bridge on the Dibogi-Hathipaon road today.