Rain brings relief from sweltering heat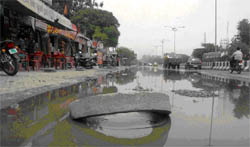 Bathinda, June 5
Residents of the region heaved a sigh of relief following heavy rain accompanied by thunderstorms that lashed Bathinda and its nearby places late on Friday night bringing the north-bound mercury to dip considerably and providing the citizens with a much-needed respite from heat.

Rain on Friday night left the Bathinda-Goniana road waterlogged. Tribune photo: Pawan Sharma

Mobile explodes, one hurt


Gidderbaha, June 5
A youth sustained minor but multiple injuries here last evening when the mobile he was talking over exploded. Giving information, injured Jasmel Singh said he was talking to his friend over his Nokia mobile, when he felt that the mobile was heating up. He had no clue that it could explode and continued to talk.

Jasmel Singh

IMA frowns on quacks
Bathinda, June 5
The IMA Chandigarh lead by Dr Zora Singh, its president, has initiated a campaign against untrained doctors (quacks). This results in prolonged illness and other complications which do not yield the desired outcome.
3-day drama fest begins at DAV College on June 8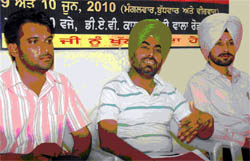 Bathinda, June 5
In assistance from the local Natayam Group, the Punjab Sangeet Natak Academy, Chandigarh, is organising a three-day "Naat mela" (drama festival) from June 8 to 10 at the DAV College here. During the festival, a play would be staged at 7.30 pm daily.


Officials of the Natayam Group addressing the media in Bathinda on Saturday. A Tribune photograph
Drug inspector held for graft in Moga
Vigilance SP accused of beating up complainant
Moga, June 5
The Vigilance Bureau officials on Saturday night allegedly roughed up Sukhdev Singh, son of Tara Singh, a resident of Dhurkot village, forcing him to give a statement in favour of the drug inspector Balram Luthra who was caught red-handed while accepting a bribe of Rs 5,000 from him.
1984 riots
Canadian leader's statement hailed
Moga, June 5
Sikhs for Justice, a human rights advocacy group, based at New York has applauded and welcomed the National Democratic Party (NDP) leader of the Canadian Parliament Jack Layton's support and solidarity with the Sikh community over the killings of Sikhs in November 1984 riots.
Caste discrimination: Granthi booked
Refused to perform rites to solemnise Dalit girl's marriage
Moga, June 5
The Moga police have booked a Granthi (priest) of a village gurdwara belonging to an upper class under Section 3 (1) (10) of the SC/ST Act, 1989 for allegedly refusing to perform the religious rites for solemnising the marriage of a Dalit girl.
Free medical camp held
Faridkot, June 5
To spread awareness in the rural areas about various heart ailments, the Elders Service Society, Faridkot, organised a heart check-up camp at the Elders Day Care and Health Centre, Sadiq, 20 km from the district headquarters on Friday. President of the society Jagmohan Singh Brar said heart specialist Dr NK Bharti and his team examined 75 patients.
Canal breach inundates fields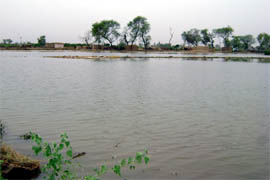 Abohar, June 5
Cotton and fodder crop in more than hundred acres of land and some kinnow orchard suffered huge damages after the fields were flooded with water following the occurrence of breaches of the banks of four irrigation minors flowing in this region.


A field of cotton crop under deep water due to breach of an irrigation minor in Abohar area on Friday. A Tribune photograph

Attempt to murder
Moga MLA's plea to discharge him rejected by court
Moga, June 5
The additional sessions judge of Moga, Raj Shekhar Attri, today rejected the application of the local Congress MLA Joginder Pal Jain to discharge him in a criminal case of attempt to murder registered against him and a few of his associates during the panchayat elections in May, 2008.
Medicare at doorstep for border villagers
Panje Ke Uttar (Ferozepur), June 5
The residents of various villages located in the close vicinity of the Indo-Pak border, who have still been crying to get basic amenities even 63 years of the independence, considered themselves lucky when an army of doctors descended here this week to provide medical care at their doorsteps.
NGO plans novel way to save water
Sriganganagar/Abohar/Fazilka, June 5
Multifaceted activities were taken up to celebrate the World Environment Day in twin districts of Sriganganagar and Hanumangarh besides other parts of Rajasthan.